The world's first collaborative robot, YuMi, was on display by ABB India at the Make in India event currently ongoing in Mumbai. The dual armed robot has been designed to work safely alongside humans.
YuMi has a lightweight and rigid magnesium skeleton covered with a floating plastic case wrapped in soft padding to absorb impact. In the unexpected event that there is an impact, then the YuMi can pause its movement within milliseconds and can resume again without much delay. It can easily work in an industry dealing with small part assembly requiring precision owing to its flexible hands, camera-based part location and advanced robot control. The compact and natural human like movements of the machine have also earned it the Red Dot 'best of the best' design award.
Over 2,500 international and 8,000 domestic companies are participating in the event which is also being attended by foreign government delegations from 68 countries and business teams from 72 nations.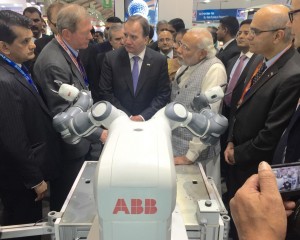 Make in India is an initiative of the Indian Government to encourage multinational and domestic companies to manufacture their products in India. It was launched by Prime Minister Narendra Modi on 25 September, 2014.