Adidas have announced the launch of three new shoes designed especially for distance runners. These new variants of its fastest running shoe – Adizero – consists of the flagship Adizero Prime X, with the Adizero Adios Pro 2 and Adizero Boston 10 being the other two launched. The Adios Pro 2 is adidas' record-breaking elite performance shoe and is set to be worn by some of the world's fastest athletes this summer, some of whom are Stephan Kiprop, Philemon Kiplimo, Amos Kipruto, and others.
This Adizero collection was also designed using valuable insights and data from these athletes, like from training camps in Kenya – where physiological data was captured from these athletes in order to help Adidas form a strategy and interventions. Our editor, Girish Mallya, had the chance to chat with Nico Roche about the details of the launch, and features of these new shoes. Check out the short interview: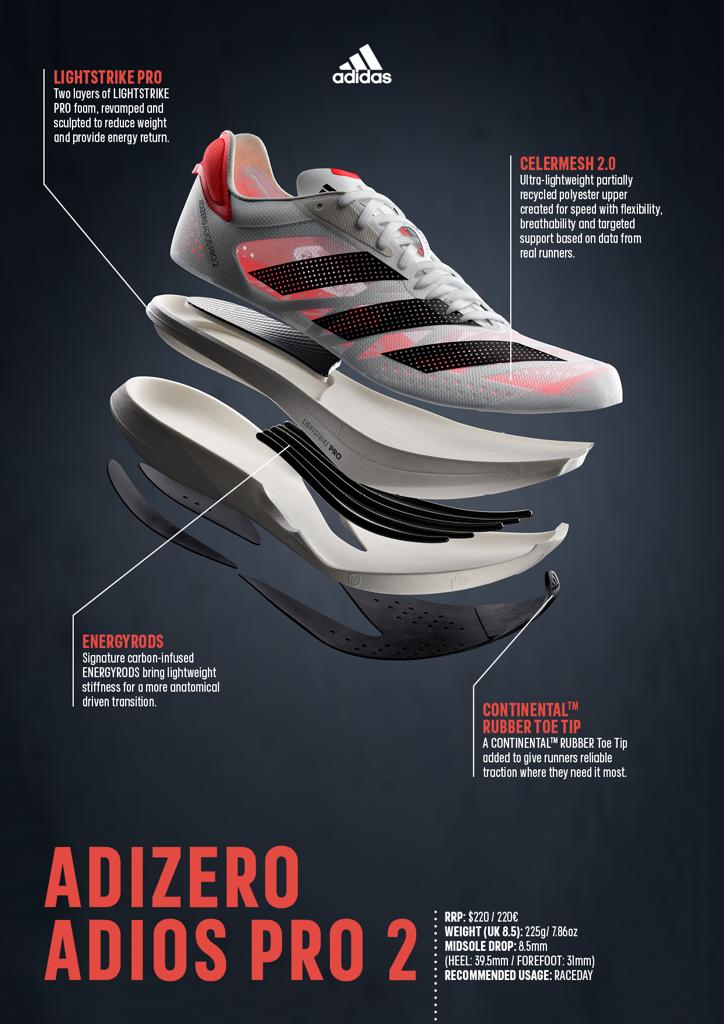 The Adizero Adios Pro 2 features two layers of re=sculpted 'Lightstrike Pro' midsole – which is revamped to support with energy return. In the Adios Pro 2, the signature carbon-infused 'Energyrods' are also visible 'within the newly sculpted midsole' and they 'deliver lightweight stiffness and are designed for a more anatomical driven transition, limiting energy loss'. The reconstructed midsole combines with 'Celermesh 2.0 upper' which is an ultra-lightweight and partially-recycled polyester. The toe tip is integrated with a 'continental rubber outsole' to create a traction zone to support faster acceleration and to prevent slip and keep the foot tightly locked, a new lightweight heel construction and the softening of the heel structure are added measures.
The Adizero Adios Pro 2 costs Rs.21,999.
The Adizero Prime X is primarily created as a 'boundary-breaking' long distance running shoe. It is essentially an upgradation of key features of the Adizero Adios Pro 2, with the prevalence of elements like the Lightstrike Pro midsole and the 'Energyrod' technology. More so, stiffening blades that spring back have been added within the 50mm heel as well.
The Adizero Prime X is available for Rs. 24,999.
The Adizero Boston 10, on the other hand, is designed mainly for training sessions. It is equipped with the same Lightsrike Pro midsole, in combination with a durable Lightstrike Eva midsole foam. It also consists of the same Energyrod technology and a 'Continental Rubber Outsole'.
The Adizero Boston 10 is available for Rs. 13,999.
These new variants of the Adizero range are available here.