Asus Republic of Gamers (ROG) is a renowned sub-brand that has a wide range of products that caters to gamers. A gaming phone was a logical extension and Asus did the inevitable last year when they announced the ROG Phone. It came with beefed-up hardware and lots of accessories to aid gamers and this year is no different with the ROG Phone II. 
We got a chance to play with the phone recently that comes with the best processor you can find in the market, improved phone design and accessories that aim to make mobile gaming experience more enjoyable.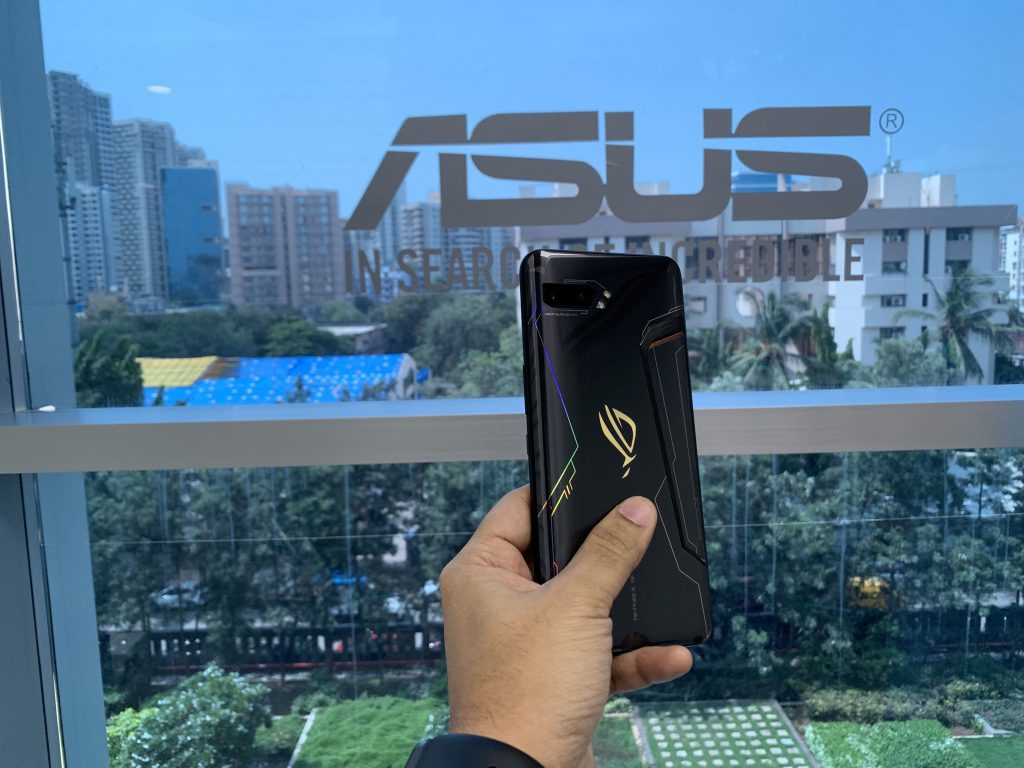 There's not much of a design bump when you compare the ROG Phone with the ROG Phone II. The front is (almost) all-screen with Corning Gorilla Glass 6 protecting it while the back boasts a similar camera design with a breathing ROG logo. The only change at the back is the no fingerprint sensor because it now resides under the screen. There are air triggers on one side of the phone that works as shoulder buttons whereas a proprietary port on the other side to dock the device or use specific accessories. 
The highlight of the ROG Phone II is the humongous 6.59-inch AMOLED display with a refresh rate of 120Hz. This pips OnePlus 7 Pro's 90Hz with fluid scrolling response but if you want to save some battery, the phone also gives an option to change the refresh rate to 60Hz or 90Hz.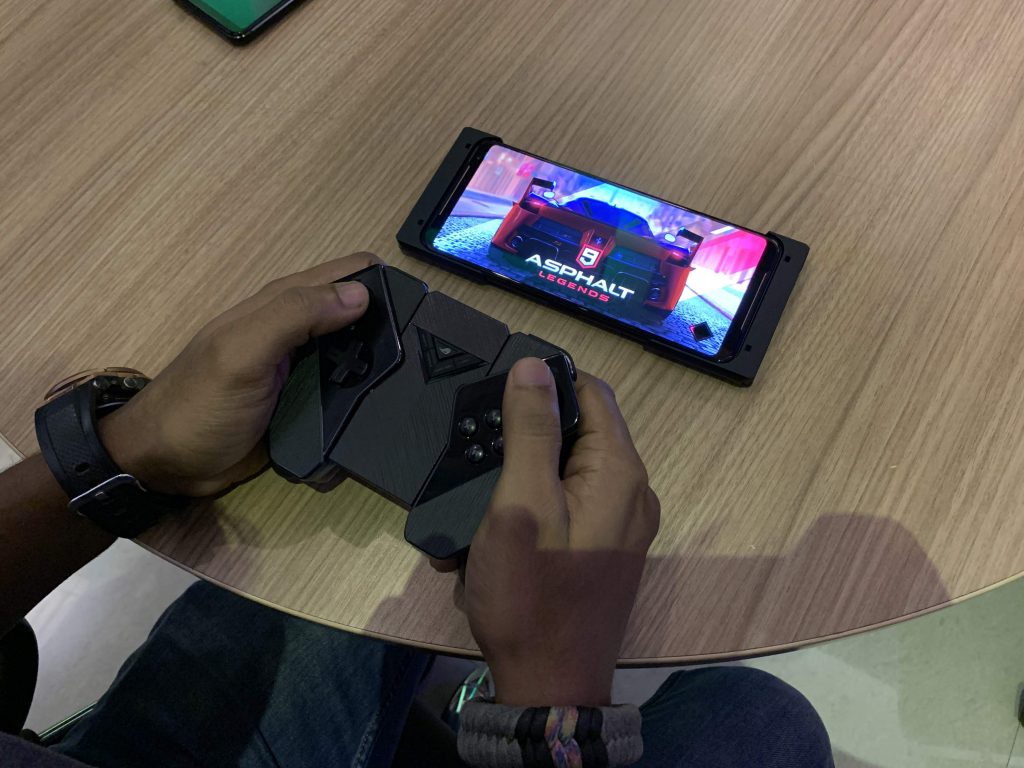 Not that the battery needs any saving because the ROG Phone II comes with a 6000mAh battery, making it one of the few phones to sport such a high capacity battery. Yes, we know about Energizer's 18000mAh phone that thing is a brick compared to ROG Phone II's good design (despite weighing 240g). The phone also supports Quick Charge 4.0.
Moving back to the display, it has a response time of 1ms, DCI-P3 colour gamut, 10-bit HDR support and improved touch latency that's instrumental when you're playing a shooter game like PUBG. 
The phone is powered by Qualcomm's Snapdragon 855 Plus processor clocked at 2.96GHz. Needless to say, it has a faster clock speed and up to 15 per cent better GPU performance compared to Snapdragon 855. It has up to 12GB of RAM and UFS 3.0 storage option of 128GB or 512GB. There's no expandable storage. 
The ROG Phone II runs Android Pie with UI similar to the one running on recent Asus phones but comes with a splash of ROG colours and specific apps like Armoury Crate that lets you see and adjust game performance as per your requirement. 
The ROG Phone II's camera duties are handled by Sony's IMX586 48MP camera with 13MP wide-angle 125-degree lens at the back and 24MP on the front.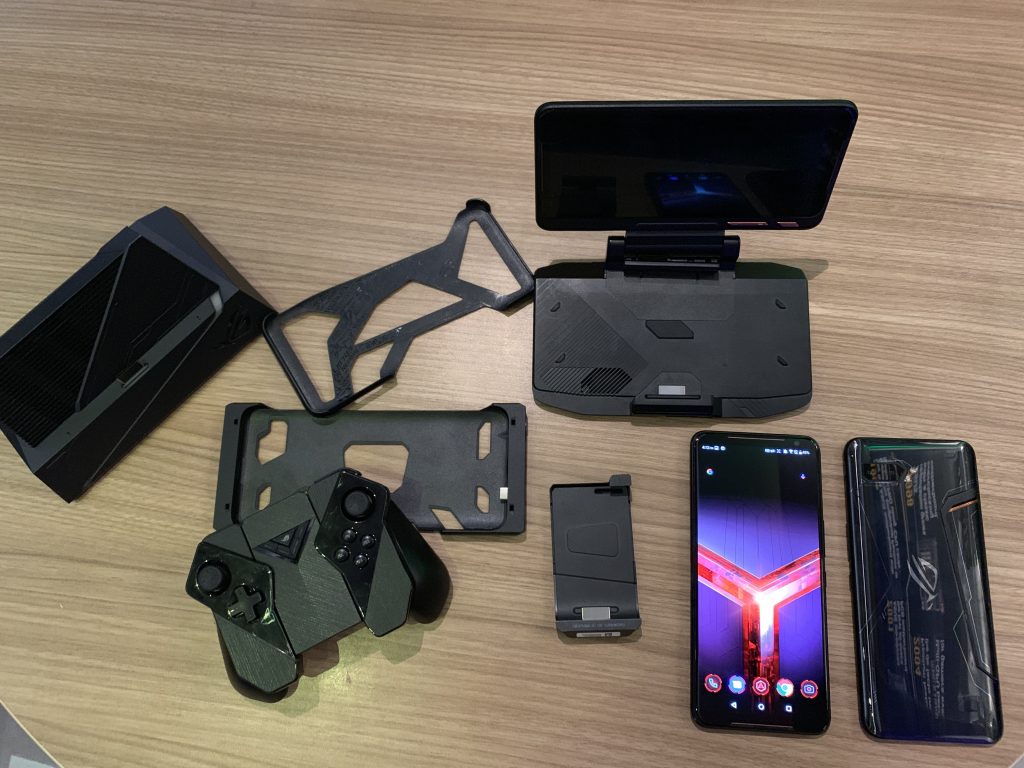 Having powerful hardware is one thing but it's the slew of accessories that makes the ROG Phone II special. The number of accessories largely remain unchanged that includes a Dock, case, a cooler, Twin View display and the new Kunai controllers.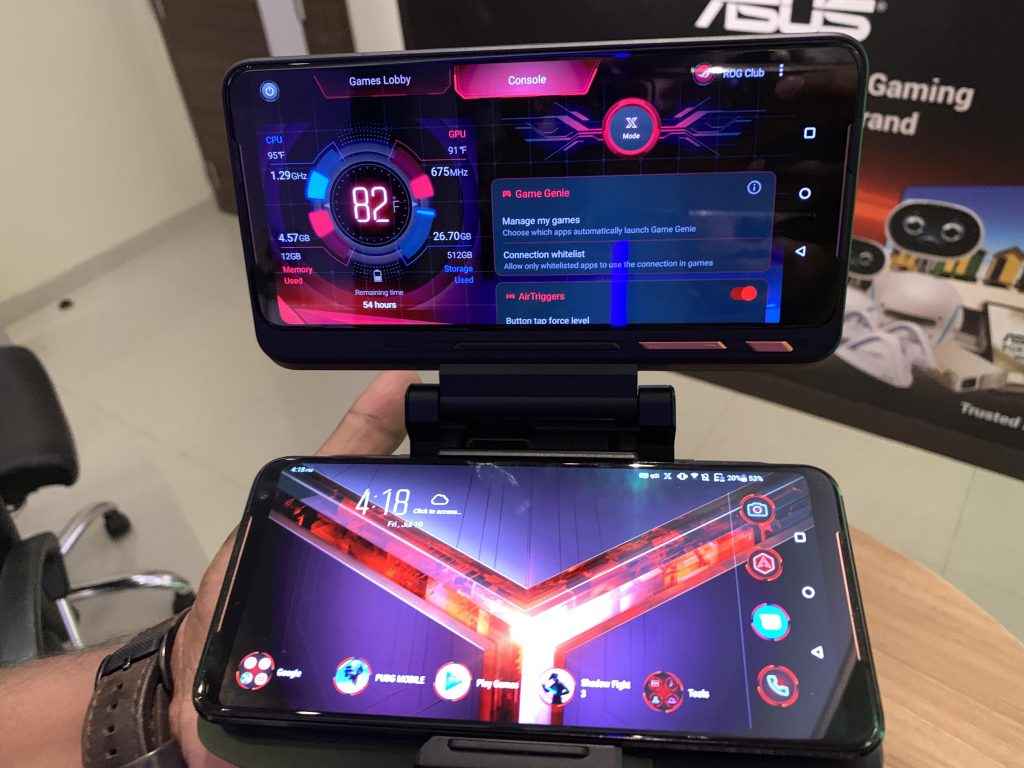 The dock features a multitude of ports like USB, HDMI, DisplayPort and even Ethernet to get that PC-like experience from ROG Phone II when docked. There's a wireless dock as well but that won't come to India when ROG Phone II arrives here.
The cooler has got a slight improvement over last year but it's the Twin View display that's got a major bump. The secondary display resides at the top, unlike at the bottom from last year's model and is thinner with 6000mAh battery.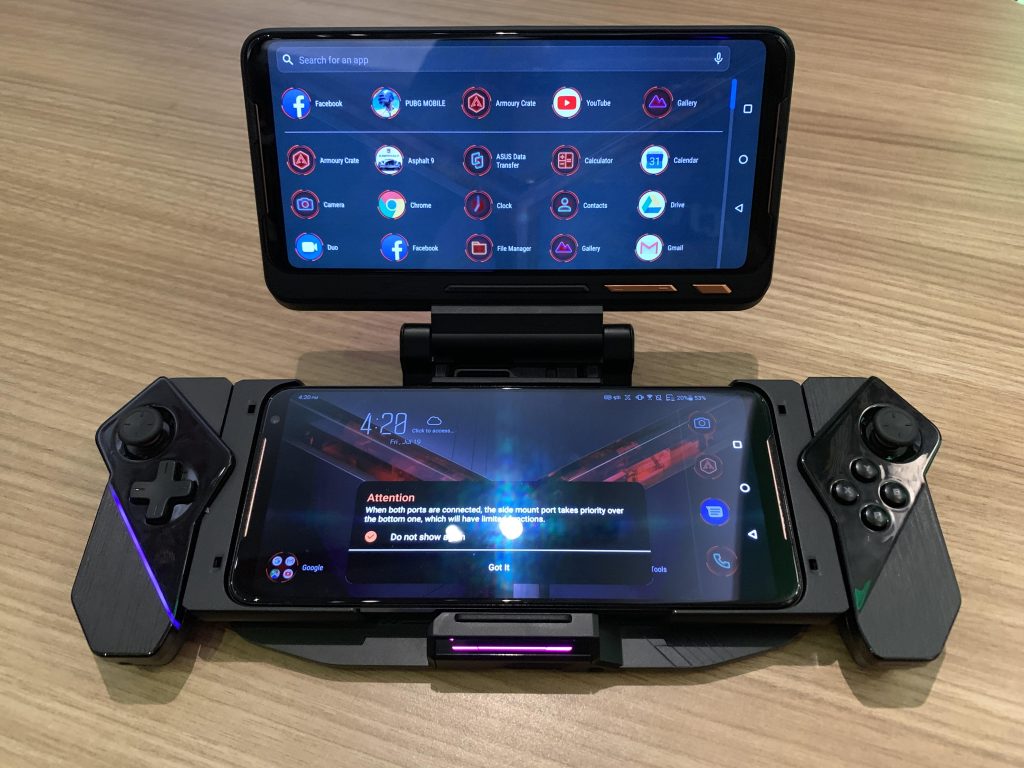 Finally, it's the Kunai controllers whose taken some design inspiration from Nintendo's Switch controllers. It looks like a regular controller when they're placed together but can be placed around the ROG Phone II, which is a nice touch.
There's not much for or against the ROG Phone II right now. The device targets the most avid mobile gamers and if you game a lot on your phone, ROG Phone II and its accessories could really elevate your experience. However, the hindrance for many would be the price. The original ROG Phone sold for around Rs. 60,000 and going by the conversation with Asus India, the ROG Phone II, it will be priced around Rs. 50,000, mainly competing with the OnePlus 7 Pro.