ASUS Republic of Gamers unveiled the G20CB compact gaming desktop which is the first desktop PC in India equipped with Nvidia Geforce GTX 1080. Matching it is the top of the line 6th generation Intel i7 Skylake processor. It's almost comparable to a console owing to the 9.5 litre size of the desktop. The ROG G20 sports a matte-black finish with Mayan lines on the side designed with no visible exterior side exhausts.
The company has implemented a custom cooling module and a fanless power adapter which makes its run quiet. So at idle it measures at just 22dB. The light zones are fully customizable offering 8 million colours in pulse, colour cycle or music equalizer modes. The G20CB is also eco-friendly with its Eco Energy Mode running at 20W which according to Asus delivers savings 50% better than the industry average.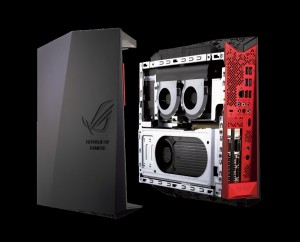 The flagship GTX 1080 delivers upto thrice the performance of previous generation graphic cards having been designed using vapour chamber cooling technology for better heat dissipation.
The G20 will be sold at a starting price of Rs.1,85,990 available for purchase exclusively at the Asus store.