ASUS Republic of Gamers (ROG) have announced that their all-new ROG Swift 360Hz monitor, the PG259QNR has also been chosen as the official gaming monitor for the DOTA 2 The International 10 tournament where the world's best teams will gather in Bucharest, Romania and battle it out until mid-October to win the first-place prize purse of $15 million. This says a lot about the quality of the monitor which we will explore in the section below.
The PG259QNR comes with the NVIDIA G-Sync and Reflex technologies and offers a stunning refresh rate of 360Hz, offering a 50% higher refresh rate over its predecessors. Running games on high settings can lead to frame rate fluctuations, but due to the integrated G-Sync technology, the visuals and the gameplay can be kept smooth and lag-free.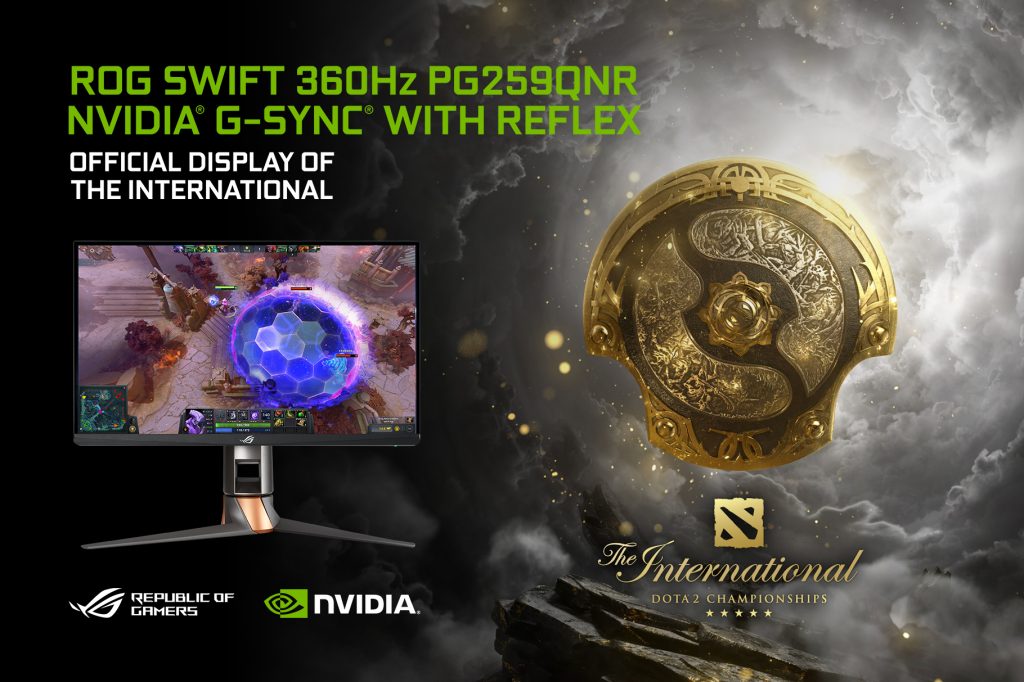 This lauded gaming monitor fosters no motion blur and minimal ghosting in order to allow gamers focus on what's most important: the in-game action. The pixel response time – which is the time taken for a pixel to transition from one colour to the next – is optimised by the G-Sync Variable Overdrive technology which does so in order for the monitor to deliver best motion clarity at all frame rates.
The PG529QNR delivers extremely low latency and features the NVIDIA Reflex which is the world's first latency-measurement technology. In this context, the latency referred to is the system latency which determines the length of time it takes for a mouse click to occur in game and be displayed on-screen. Through the Reflex analyser's ability, gamers can tune in-game settings and get the lowest system latency.
The Swift 360 Hz PG259QNR includes the ROG Desk Mount Kit to help gamers free up desk space. The kit has a C-clamp bracket that fits desks or table tops up to 8 cm thick, and it includes padding to protect the desk surface. Once tightened and locked into place, the final setup is a breeze, with the mounting arm of the monitor slipping right into the bracket.
For more information, please visit the ROG Swift 360Hz PG529QNR's product page. The pricing for this monitor can be found out through local ASUS representatives.