Recognising the challenges faced by many across India, who converse primarily in their local languages, Bobble AI have announced the launch of a keyboard designed specifically for those who speak Marathi – making it easier to communicate and send messages during the extremely popular festival of Ganesh Chaturthi.
Dedicated to the 70-million-plus Marathi speaking community in India, the Marathi keyboard is also integrated with dedicated 'Animated Bigmojis', which enables users to send magnified emojis from the emoji panel by pressing on the emoji longer. Bobble AI also is the first to introduce this feature into keyboards and for the occasion of Ganesh Chaturthi which starts in 2 days, they have also featured special emojis of Ganapati Bappa/Lord Ganesh.
When it comes to functionality, Bobble's Marathi keyboard is one of the newest Marathi input tools out there for phones running on Android. Users are able to text in Marathi, either by typing in Marathi or through the keyboard's impressive English to Marathi translator. More so, Bobble's Marathi keyboard also has the unique capability of autocorrecting, which understands the user's intent.
Bobble AI have also mentioned that, 'there is automated word prediction on local phrases like tumcha svāgat aso, tu kasā āhes, su-prabhāt pūnhā bhetū,lavakar barē vhā! Abhinandana, among many others'.
To make life easier, Bobble's Marathi keyboard has an incredible speech recognition software that can recognise the authentic Marathi accent and convert it into well-versed text messages, thus, allowing users the luxury of not typing at all.
The users can create their personalised cartoon avatar through the 'Cartoon Head and with merely a selfie can access to 1000's of stickers and GIFs.
"Bobble AI empowers millions of Indians to communicate in 100+ languages and expressive content. The company is actively creating more stickers, gifs, and memes for regional consumption, as a result, the adoption of regional languages has been taking place in every millisecond. The Marathi keyboard is introduced because there was a need for such medium, after all, there is nothing more authentic and persuasive than what one friend says to another", says Ankit Prasad, Founder and CEO, Bobble AI.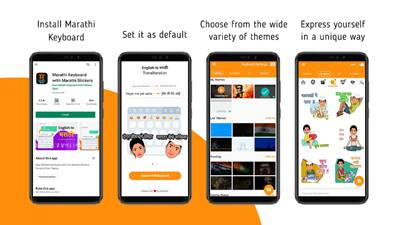 Bobble AI's Marathi keyboard is available for Android users and can be downloaded through this link.
For more information, please visit the Marathi keyboard's dedicated web page or this page.