How many times have you felt helpless because you could not provide a phone to your children because you are worried about them accessing inappropriate information on the web? Or for that matter, your aged parents who are unable to use today's smartphones and need a simple phone just for calling and occasional SMS? There are a few phones in the market that offer just the right solution for this. The Easyfone Shield is one such basic bar phone that comes IP 68 certified and is dust, and shockproof.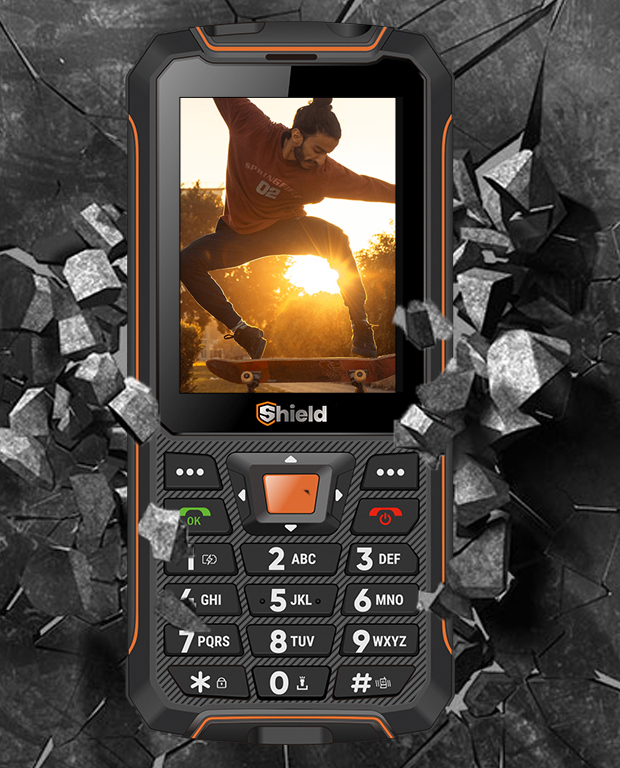 The Easyfone Shield has a lightweight and sturdy plastic body with rubber linings to absorb shock. The phone accepts a dual SIM and a MicroSD memory card of up to 32GB capacity. The company does not share any detailed specifications including the internal memory. However, we found it to be insignificantly small, allowing only phone contacts to be stored. The phone accepts a full-size SIM and hence if you have a nano or micro SIM without the original full-sized casing that comes with new SIM cards, you need to buy an adapter to use it in this phone. To install the removable battery, SIM or Memory card, you need to remove the back panel, held together by four screws. This means that if the end-user is a senior citizen who doesn't have the fine motor skills to use a small screwdriver, do not expect them to set this up by themselves. The package includes a small screwdriver along with the battery, charger and OTG micro USB male to USB-A female cable.
Once set up, the phone is quite easy to use. You can configure Whitelist and Blacklist so that the user is not bothered by unnecessary calls. Call quality is quite good. The keypad has a nice tactile feel. There is a dedicated SOS button and you can store up to four SOS numbers. Once the SOS button is pressed and held, the registered phone will receive an SMS and a link to the coordinates, Google Map location etc, in addition to a call. Unfortunately, the Google Map never loaded on the Easyfone website link during our review.
The OTG cable allows you to use the phone as a power bank. Battery life is predictably good with the 2500 mAh battery since the phone has only basic features and uses a basic 2.8-inch IPS screen. The device is sealed against water ingress at all entry points by means of flaps, while the battery chamber is protected by a rubber gasket. However, we found the gasket slipping out of place while installing the panel. We checked the water ingress by immersing the device in a bucket of water for about 10 minutes and found the interiors to be dry. Overall, we would consider this device a good choice if you are looking for a basic feature phone for calling, SMS and emergency use.
---
RATING
WE'RE IMPRESSED Sturdy build quality, good call quality, SOS button, Whitelist and Blacklist
WE'D IMPROVE Nano SIM instead of full-size module, better fitting gasket for back panel, working location map in SOS link
THE LAST WORD A good phone for children and elderly parents who need a basic device for calling and SMS.