LG has pulled off a remarkable feat through the innovation of the truly unique LG Wing – a smartphone that swivels and shows off two screens, perpendicular to each other in orientation. There's no doubt that this fantastic trait can enhance the users multitasking capabilities and the Wing's specifications also ensure that the smartphone delivers when it comes to speed and performance.
First things first, the LG Wing has 6.8" FHD+ P-OLED main screen with a 2460×1080 resolution and an aspect ratio of 20.5:9. Additionally, the LG Wing has a 3.9" G-OLED screen offering a resolution of 1240 x 1080. LG Wing comprises of the 'Basic Mode' and the 'Swivel Mode' where the former is similar to a normal smartphone with the main screen serving as the main and only mode of operation.
The 'Swivel Mode', however, is what is most alluring about the LG Wing. In this mode, the 'entire front of the phone rotates clockwise 90 degrees, orienting the Main Screen in landscape mode to reveal a 3.9 inch Second Screen'. The second screen enables the user to do a myriad of things while the main screen is busy with the user's main task – for eg. chatting with friends on the second screen while watching a movie in the first. The second screen also acts like a 'media controller', which enables users to change video and sound settings.
The LG Wing is powered by the Qualcomm Snapdragon 765G 5G chipset, with an integrated Snapdragon X52 5G Modem-RF System, thus, being Qualcomm's first mobile platform to do so. Snapdragon's Elite Gaming features enhance the gaming experience for users as well, through better audio, response time, and graphics.
The LG Wing runs on Android 10 and on a 4000mAh battery. It has three cameras in the rear, with a 64MP ultra high-resolution OIS Wide main camera, 13MP ultra-wide camera, and 12MP ultra-wide 'Big Pixel' camera. The 'Swivel Mode' allows users to access the 'Dual Recording' mode which enables the 32MP front pop-up camera and one of the rear cameras to record simultaneously.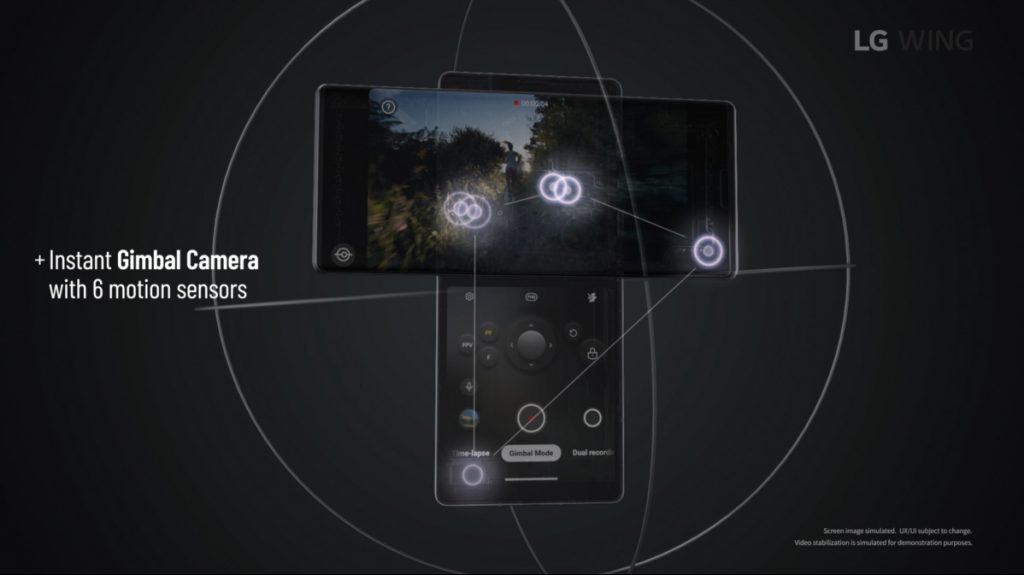 LG Wing also comes with the Gimbal system and hexa-motion stabiliser, which can be activated through the Swivel Mode, with the second screen serving the purpose of a reliable grip – which helps in capturing stable and smooth photographs and videos
The hinge mechanism used in LG Wing is tested to be reliable even after 200,000 swivels. The LG Wing comes with an 8GB RAM and options of 128GB or 256GB of storage which can be expanded to 2TB using a microSD card.
The LG Wing is available in the Aurora Gray and Illusion Sky colour variants.