The Covid pandemic and the lockdown life that confined us to our homes also served as an opportunity for people to rediscover their passions and create a variety of content in a serious form. Skill-sharing platforms have probably been the most sought-after during this period, leading to the emergence of a new breed of entrepreneurs. Online marketplaces are popular, but these limit the scope of creating your own identity and brand online. Enter Exly, a ready-made suite of tools to manage your online business with minimum hassles and help you build your brand in a cost-effective way.
Exly, previously known as Myscoot, is a platform built for creators and independent professionals to launch, manage and grow their business online. In its previous avatar as MyScoot, incorporated in 2019, the platform managed to raise USD 1.7 Million from India's top VC funds like Lightspeed Ventures, and renowned angel investors like Kunal Shah (Founder Cred, Ex-founder Freecharge), Maninder Gulati (Global Chief Strategy Officer at Oyo), and others.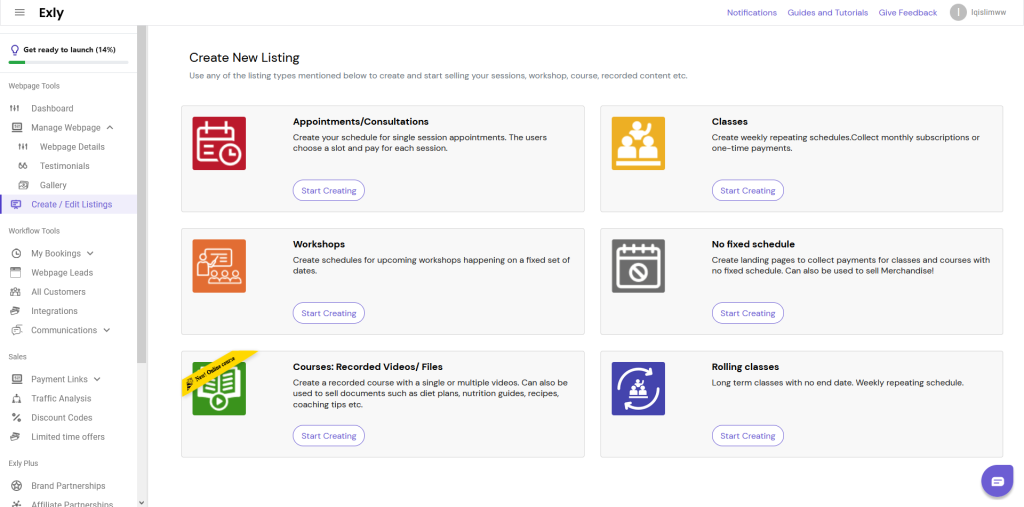 Exly lets you create your website and start promoting your classes, consultations, workshops, recorded content and merchandise with a complete backend solution with analytics and payment systems. What makes Exly attractive is the fact that you can set up your business without any technical knowledge. The Exly dashboard includes tools for scheduling your various types of classes, workshops, courses and other sellable content, each complete with web links, pricing details, reviews and such details. You can set up automated messages based on customer action on the page and create custom emails. The Sales section allows you to set up discount codes and limited time offers in addition to creating payment links.
The simplest way to set up your online content platform on Exly is by creating your basic website right from the dashboard as a subdomain of exlyapp.com. You can choose one of the readymade templates and customise the look and feel. However, if you are an experienced web developer who prefers to use your own domain that is hosted elsewhere, Exly provides a single-line code to incorporate all the ready-to-use tools into the back-end of your existing website. If you have gone through the pains of integrating those multiple plugins, customising and troubleshooting them, you would appreciate such a solution that allows you to concentrate on your core content creation efforts. And the content that is hosted on this platform is not shared on a marketplace and that negates the possibility of copyright and intellectual property infringement.
Exly is indeed a complete suite of tools that include social media integrations and analytics. With the help of lead monitoring and analysis, the platform allows creators to take timely action, thereby optimising their investment and efforts. Another attractive feature is that you pay for Exly's services only when you start earning from your content.
Launched in December 2020, the platform has grown 15X so far and the founders claim that Exly has helped creators earn more than five lakh USD on the platform. For more information, visit www.exlyapp.com.