Intelligent features are slowly finding their way into our daily lives, making it easier and easier to live and perform daily tasks without any hassle. The Mi Robot Vacuum-Mop P is exactly what you imagine it to be. The Mi Robot Vacuum Mop is a sustainable way to have homely floors cleaned through just a push of a button.
Branded as the 'Modern Pro Cleaning Solution', the Mi Robot Vacuum Mop P operates within 2 modes: (i) the sweeping + mopping mode and (ii) the sweeping only mode, where the former utilises a 2-in-1 storage tank for all the dirt cleaned and the latter uses a 550ml dust-tank which is good to go for multiple cleaning sessions. Developers at Mi have also taken into consideration the intricacies of manually sweeping and mopping and the have designed a specific dual-direction repeated wiping in the sleeping + mopping mode, thus promising a deeper clean.
More so, the Mi Robot Vacuum Mop P is equipped with 12 high precision sensors. The anti-collision sensor ensures accurate navigation and the anti-drop sensor avoids any possible falls from staircases and senses the surrounding environment. Its ability to achieve efficient navigation during sweeping and mopping is through the Laser Distance Sensor (LDS) coupled with the Simultaneous Localisation and Mapping (SLAM) algorithm, which foster real-time mapping and a scanning range of up to 8 meters.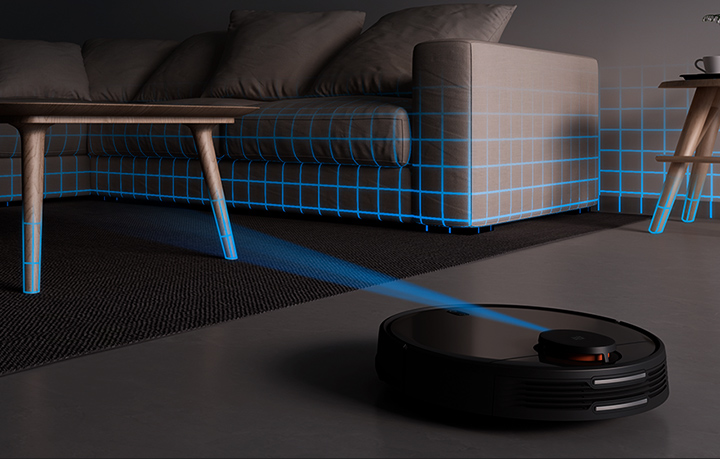 The Mi Robot Vacuum-Mop P comes with an electronically controlled water tank which is capable of dispensing the water with different intensities depending on intensity of clean and the type of floor the user wants to clean. This device connects to the Mi Home App which unlocks several smart features such as scheduled cleaning, spot cleaning, remote control, and real-time mapping.
Impressively, after its first clean, the device is capable of identifying the layout of the user's homes and through this, the user can even tell the device what areas to avoid and which zones to clean, and set virtual walls to prohibit the device from going into some areas – all this through the smart Mi Home App.
The Mi Robot Vacuum-Mop P weighs 3.6kgs and is powered by a quad-core Cortex-A7 processor and a dual-core Mali 400 GPU with a battery capacity of 3200mAh and the ability to go to its port to automatically recharge. This device also comes with accessories such as a full wet mop, semi-wet mop, drag bracket, and more.
Those interested in purchasing and supporting this product, can do so through Mi's crowdfunding page – which also lists more details about the product which will be available from September 15, 2020.