At a press conference today, Moto revealed the specifications, pricing structure and release date of the Moto Z series in India. The Moto Z and Moto Z Play are confirmed for launch but Moto Z Force is nowhere to be seen.
The Moto Z is the world's thinnest premium smartphone at just 5.2mm, made from military aircraft-grade aluminium and stainless steel. The rear camera comes with OIS and Laser autofocus while the front camera has an extra front flash that works well even in low light. The fingerprint sensor is located on the front and a simple touch is all that is needed to quickly wake it up. For added protection, it comes with water-repellent coating to safeguard from rain, splashes or spills.
The Moto Z play is much thicker and heavier when compared to the Moto Z but it is more affordable and said to come with Moto's longest lasting smartphone battery. The company claims that the device delivers upto 45 hours of battery life. The rear laser autofocus camera can deliver capable shots during any time of the day while the front wide angle camera supports groupie shots as well.
What sets the Z series apart from others are the Moto Mods. Using the Moto Insta-Share Projector that turns your Moto Z phone into a portable 70-inch movie projector while the JBL SoundBoost provides loud stereo sound. The Incipio offGrid Power Pack instantly adds upto 20 hours of battery life and the Hasselblad True Zoom mod with 10x Optical zoom adds advanced imaging functionality to the devices.
The Moto Z (Rs. 39,999) and Moto Z Play (Rs. 24,999) will be available on Amazon India and Flipkart starting 17th October. The pricing of the mods is as follows: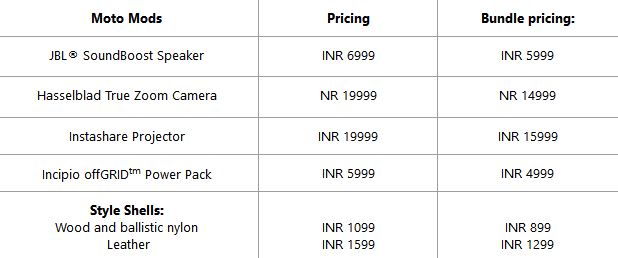 Moto Z Specifications:
Display: 5.5″ ,1440p 2k
CPU: Qualcomm Snapdragon 820
GPU: Adreno 530
Memory: 4GB RAM
Storage: 64GB (expandable upto 2TB via microSD)
Operating System: Android Marshmallow
Colour: Black
Size: 153.3×75.3×5.2mm
Weight: 136 g
Camera: 13MP rear with f/1.8, 5MP with wide FoV
Battery: 2,600mAh
Moto Z Play Specifications:
Display: 5.5″, 1080p FullHD
CPU: Qualcomm Snapdragon 625
GPU: Adreno 506
Memory: 3GB RAM
Storage: 32GB (expandable upto 2TB via microSD)
Operating System: Android Marshmallow
Colour: Black, White
Size: 156.4×76.4×6.99mm
Weight: 165 g
Camera: 16MP rear with f/2.0, 5MP with 85 degree lens
Battery: 3,510mAh