Realme has experienced unprecedented growth over the past two years in the competitive smartphone market segment. Now, with the new realme Narzo 10 and 10A, realme is raising the bar for entry-level smartphones by adding several features generally found in mid-range value smartphones.
Both, the Narzo 10 and 10A, will have only one variant up for sale now, with the former releasing on May 18, and the latter on May 22, 2020. However, we've listed out some important specs of both, which we feel are geared towards OTT content bingers and gamers, but in all honesty, most brands are doing the same. The Narzo 10 and the 10A come with a 6.5" mini-drop full screen which also comes with eye protection tech. Realme claims that with a faster processor, the Narzo 10A is up to 150% faster than its predecessors.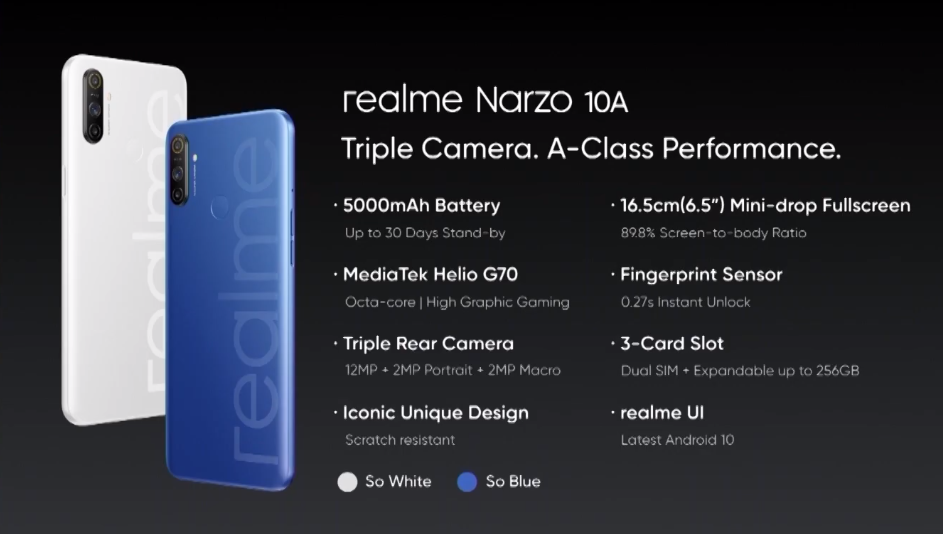 The realme Narzo 10A is priced at Rs. 8,499 and comes with a 3GB RAM with 32GB of storage. The Narzo 10A is also powered by a MediaTek Helio G70 2GHz octa-core processor. Users can expect the phone to run for long hours with a 5000mAh battery which supports a 'reverse charge' feature as well, thereby enabling it to charge other devices like a power bank. Coming to the camera system, we must say that it seems to be pretty average, thus, decent when you consider it in the entry-level or budget smartphone range. It features a triple-camera rear system with a 12MP f/1.8 + 2MP portrait camera + macro camera enabling users to shoot objects 4cm away. Narzo 10A will be available in 'So White' and 'So Blue' colours.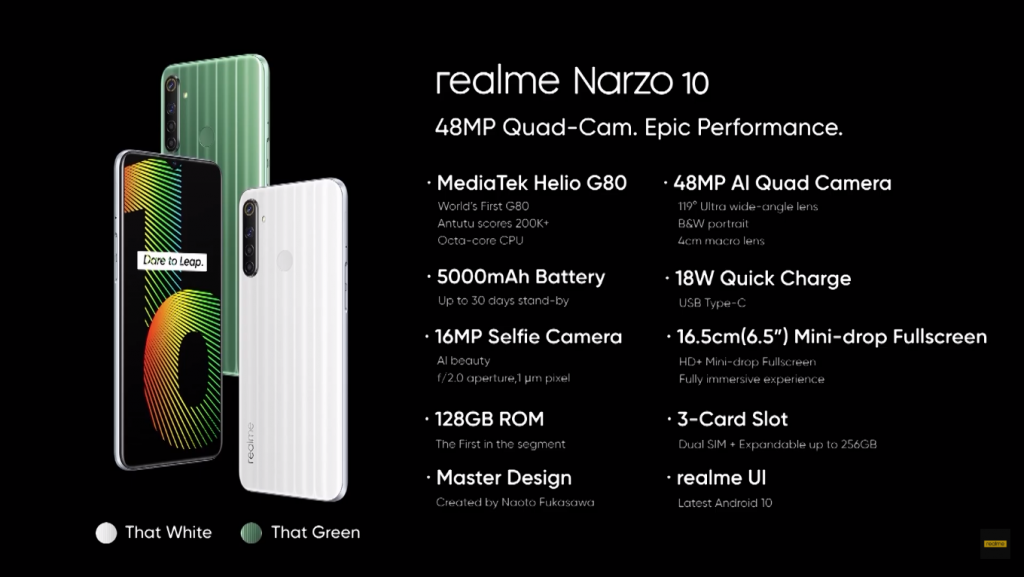 Now, the realme Narzo 10 is the leading star of this range and is priced at a reasonable Rs. 11,999. It comes with a 4GB RAM with 128GB of storage and it runs on MediaTek's Helio G80 chipset, making it the first phone in the world with it. Like the 10A, the Narzo 10 is equipped with a 5000mAh battery as well. The Narzo 10 features a quad-cam setup with a 48MP main camera + 119-degree ultra-wide 8MP camera + a macro lens + a B&W portrait lens. It also comes with a 16MP front camera enabling users to take wider selfies. Realme promises more detailed highlights and shadows in photos shot in the 'Nightscape' mode. The Narzo 10 comes with an 18W quick charger and is also sleekly and minimally designed by Fukasawa. The Narzo 10 comes in two colours, namely: "That Green" and "That White".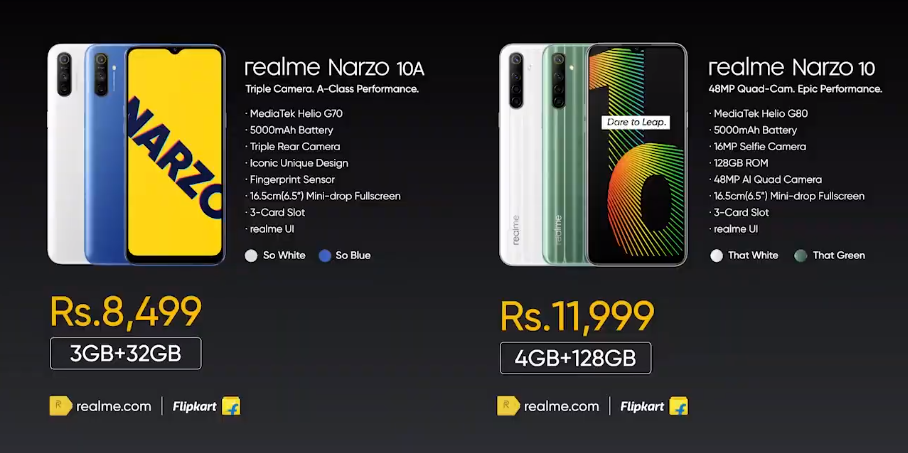 The realme Narzo 10 and 10A will sell on Flipkart from May 18 and May 22 respectively.