Words :  H. S. Billimoria
One may wonder why we have covered Helen, who is not a singer, in our retro music section. The reason is that songs composed for Helen and enacted by her followed a certain style whereby they could be immediately identified as a Helen number. It did not matter whether the music director was Shankar Jaikishan, Kalyanji Anandji or RD Burman.
Playback for Helen's songs was performed by a number of singers. One would have thought that Asha Bhosle's voice matched Helen's the most. However, a number of Helen's hit songs and dances have been rendered by Lata Mangeshkar, Usha Mangeshkar and Sharda.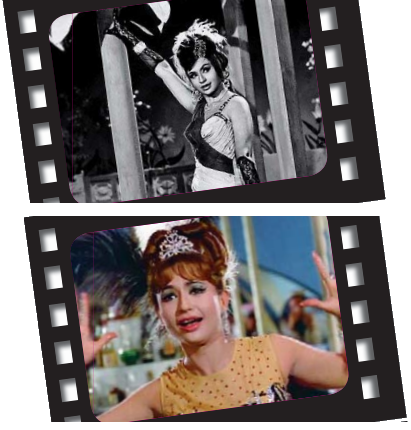 Helen was not the first dancer to take the Hindi film industry by storm. That privilege belonged to Cuckoo Moray, an Anglo-Indian dancer who ruled the world of Hindi Films in the 40s and 50s. Being French Burmese in origin, Helen was very fair and slightly oriental in appearance. This suited postindependence Hindi films that were looking for 'the vamp with the golden heart'.
Helen's popularity crossed all segments – front benchers to back benchers. To her credit, she was pretty, graceful and never vulgar. This made for immediate success. There were plenty of imitators but none had the  combination of looks and talent that Helen had. In the s60s and early 70s, no film was complete without a dance by Helen.
Helen was also an accomplished actress. However, her dancing prowess proved to be a hindrance. Everyone wanted Helen to dance and never thought of giving her roles to perform. Helen, therefore, had to start with lead roles in B-grade films like Aaya Toofan (with Dara Singh) and Cha Cha Cha (with Chandrasekhar). This ultimately led to some powerful supporting roles in films like Gumnaam and Lahu Ke Do Rang.
As far as dancing was concerned, Helen paired best with Shammi Kapoor. China Town, Junglee, Pagal Kahin Ka and Teesri Manzil are good examples. Helen faced competition from dancers like Madhumati, Bela Bose, Laxmi Chhaya and others but no one came close. Madhumati had the advantage of also looking a bit like Helen. There were others like Shashikala and Bindu, but they were essentially typecast as vamps and were not great dancers.
Helen has also danced when the hero has sung. Such songs, howsoever popular they may have been, have not been included as there was no female playback. Examples are Aai Aai Aa Suku  Suku from Junglee, Taali Ho from China Town, Mehbooba from Sholay and Hum Kalle Hai from Gumnaam.
Today, Helen is 77 and leading a comfortable retired life. Blessings of her countless fans who have enjoyed her performances have no doubt helped her.