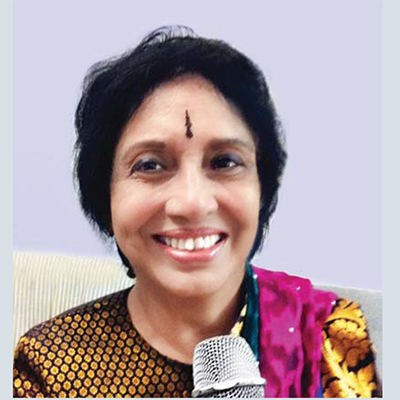 Words : H. S. Billimoria
The arrival of Sharda on the musical scene in 1966 with 'TITLI UDI' of SURAJ did create a musical stir. For one, her voice was diff erent. Two, she was backed by the biggest names in music at that time, viz. Shankar Jaikishan. Sharda singing the best songs for SJ meant that other top female singers of that time lost out on those songs. This brought out their venom and ire. A leading singer is stated to have taken Sharda's entry very negatively and had even boycotted SJ for some time; ostensibly because of their stand against royalties for playback singers.
The opposition and ire against Sharda's entry resulted in her songs being recorded and picturised but not included in the fi nal cut of the fi lm. Strong forces were rumoured to be at play to prevent the songs from inclusion. Instances of such exclusion are:
• Tera siva kaun hai mera – Pyar Mohabbat
• Aayega kaun yahan – Gumnaam
• Tumko sanam pukar ke – Diwana
• Tumhari bhi jai jai – Diwana
• Taaron se pyaare – Diwana
• Hai phir zara zara – Saazish
• Kisike dil ko sanam – Kal Aaj Aur Kal
Raj Kapoor's magnum opus 'Mera Nam Jokar; was a four hour long fi lm. This was after a lot of editing and the deletion of three songs, two of which were sung by Sharda. Both the songs, 'Mere Ali Baba' and 'Gao Gao Gao' (with Mukesh) are available on You Tube.

Sharda won her first Filmfare Award for 'Tutli Udi' from Suraj in 1967. The Filmfare Jury came out with a tie with 'Baharon Phool Barsao', Rafi 's iconic song also from 'Suraj' vying equally for honours. An exception was made and the 'Best Singer' Award went to Rafi and a special award to Sharda.
In 1969, Sharda was nominated for the Filmfare Award for Best Female Playback for 'Tumhari bhi jai jai' from Diwana. It is very intriguing that Saregama does not have this song anymore in its archives.
In 1971, Sharda again won the Filmfare Award for Best Female Singer for 'Baat zara hai aapas ki' from 'Jahan Pyar Miley'. In 1972, Sharda was nominated for the Filmfare Award for Best Female Playback for 'Aap ke peeche' from 'Ek Naari Ek Brahmachari'.
Sharda was first discovered by Raj Kapoor who introduced her to Shankar Jaikishan. It is rumoured that most of the songs that she has sung for the duo were actually composed by Shankar. Shankar, however, never admitted this and always claimed that they worked as a duo. No wonder, even after Jaikishan's untimely death due to cirrhosis of the liver, the SJ label continued.
Finally, Sharda is multi talented. She has both written songs and composed music. The popular song from 'Garam Khoon' – Ek chehra sung by Lata Mangeshkar and performed on screen by Sulakshna Pandit has its lyrics written by Sharda under the pseudonym of 'Shingaar'. Again, Sharda has sung the songs of 'Kaanch ki Deewar' under the pseudonym of 'Sharadrima'. She has provided music for 'Maa Bahen Aur Biwi', 'Tu Meri Main Tera', 'Kshitij', and 'Mandir Masjid'.
Today, Sharda spends a considerable portion of her time in the United States teaching music and performing for NRI audiences. With the Internet and You Tube, her popularity is higher than before.