A Full HD projector suited for gaming
Rs. 64,990 (introductory price), benq.co.in
High-resolution, dynamic range are a couple of talking points when it comes to gaming on a large screen. Lower latency is another important feature that is seldom discussed, and while some TVs have integrated it with a dedicated game mode, many projectors are yet to make that transition. BenQ's TH585, however, is an exception. It comes with an enhanced game mode and lower latency for an improved gaming experience.
The BenQ TH585 is a compact and lightweight projector that can be placed on a table that is supported with height-adjustable legs or can be ceiling-mounted. There's digital lens shift that allows to offset the projection by some margin and supports vertical keystone of up to +/- 30 degrees. Moreover, the projector supports 1.1x zoom and throw ratio of 1.50 ~ 1.65 that lets one project images in 100-inch size from a distance of 3.32m. Either way, it's easy to set up and get it running.
Design-wise, the TH585 does not look that different from the other BenQ projectors we have seen in the past. It comes in BenQ's matte-white finish with exhaust vents on the front and right-hand side for heat dissipation. Physical keys to control the projector are on the top, along with zoom and focus ring to adjust the lens. At the back are the connectivity options like two HDMI ports, audio-in and audio-out ports, one, USB Type-A port, RS-232 and two D-sub ports (input and output). BenQ also bundles a compact remote control that makes controlling the projector easier.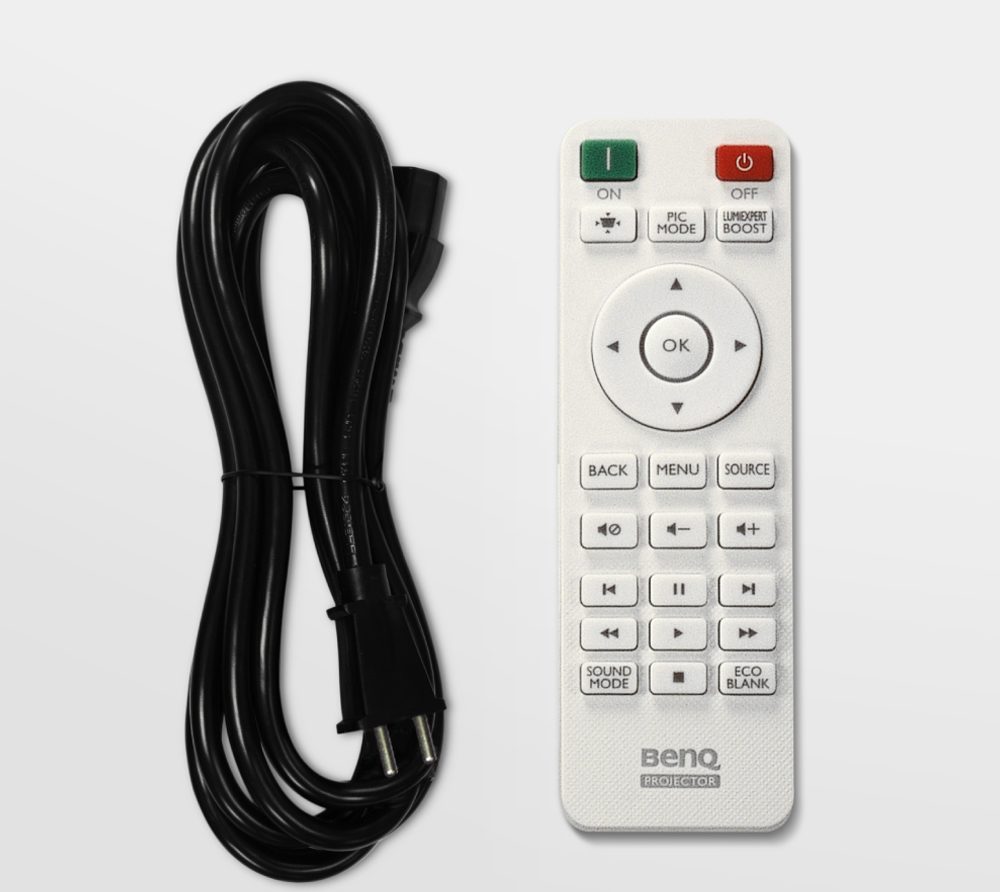 The TH585 features a DLP projection system with a Full HD (1920×1080) resolution support, which works with a sea of features to deliver a decent viewing experience. The out-of-the-box colour settings are good enough with 95% Rec. 709 colour coverage, but the projector allows fine-tuning or one can choose from the pre-set modes to let the projector handle itself. The TH585 also comes with a wall colour option so that the projector can tweak the colour settings accordingly.
Turning on the game mode is where the TH585 shines. Connect a gaming console like the PS4 or the Xbox One and the 16ms response time comes in handy. The mode also amps up the contrast and enhances the dark areas, allowing the player to see details in the shadowy corner.
The projector lamp can go bright to up to 3500 ANSI lumens, making it ideal to use it in well-lit rooms but will be at the expense of shortened lamp life. However, using the lamp in SmartEco or LampSave mode can increase the life of the lamp to up to 8,000 or 15,000 hours, respectively.
The 10W mono speaker is audible in a small room, but it is advisable to go with an external speaker, via the integrated audio-out port.
BenQ markets the TH585 in India as a home entertainment projector and even bundles an Amazon Fire TV Stick, which is a good way to enjoy this projector. However, you will get more out of it if you are looking to game on it, giving you a massive 100-inch display at a price point of a decently spec'd 55-inch Smart TV.
RATING 4/5
WE'RE IMPRESSED Game mode, easy-to-use
WE'D IMPROVE Speaker performance
THE LAST WORD For an introductory price of Rs. 64,990, the TH585 offers a holistic home entertainment experience with pleasant colours, improved response time for gamers and high brightness.