Price: Rs. 3,999
By the looks of it, the Portronics Chime TWS wireless speaker does set the stage for the users to have something to be excited about. While different connectivity options of the speaker system, along with the ability to connect to an external microphone make this speaker stand out, the sound quality does not follow the same trajectory and settles somewhere just above the mediocrity.
The Chime 20-Watt wireless speaker's design reminds us of a retro cassette player, and it does feel good to look at it and take a stroll down memory lane. The exterior and the 4 buttons on top are made of plastic and as a whole, the speaker does look tough enough to bear minor jolts or physical shocks.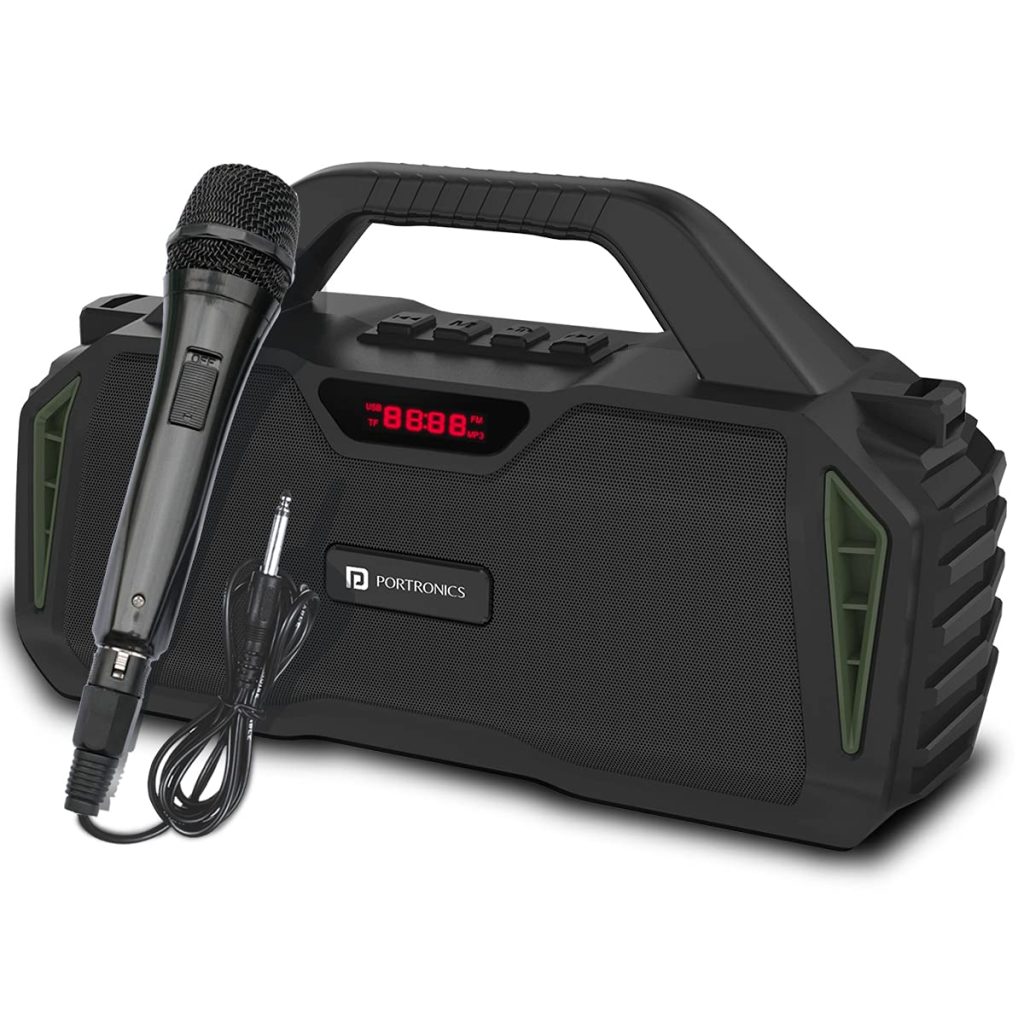 The comprehensible manual provided with the speaker gives quick pointers on how to get started with the speaker system and access different modes. Along with the speaker and the manual, the package also comes with a wired Karaoke microphone, an AUX cable, and a USB charging cable. The speaker consists of a 3000mAh battery which can be charged through the Micro-USB port.
Additionally, the Chime also houses a micro SD card slot which, we thought overkill, but it never hurts to have more options. It's easy to get started through Bluetooth, and through the AUX cable too, but using the Radio was not as described in the manual, and using the radio, along with scanning different channels can get frustrating with time.
On the tiny LED display, the Chime does not show or provide options other than the Bluetooth mode or FM Radio when no other cable (like the AUX or USB) is connected. When it comes to the sound output, this 20-watt speaker does lack the ability to reproduce quality bass, whereas the voices or vocals are very clear and smooth. The lack of the 'punch' or 'oomph' factor in the overall output does drastically affect sound quality and is not quite near products like the JBL Flip, which in turn, is smaller and provides limited connectivity options.
The Chime also does not provide the option to customise the range of sound frequencies through an equaliser. This means, that the not-so-rich bass is something the users have to accept and reap the benefits of other useful features like the external mic and the FM Radio.
RATING
WE'RE IMPRESSED wide range of connectivity options, retro design, size, and price
WE'D IMPROVE bass, sound customisability
THE LAST WORD While the Chime does impress on a few fronts, when it comes to the sound quality – which is a crucial feature of any speaker system – this 20-Watt speaker does the job but still remains average and inferior to other speakers in the same price ranges.