A speaker good enough for a house party
Rs. 39,490, samsung.com/in
Some speakers produce true quality audio, at par with what the composer intended and then some speakers are meant to be loud, fun and casual aka party speakers. The choice of party speakers from Sony, LG and others have grown in the last few years and Samsung too, is entering the fray with two of its Sound Tower speakers. We are taking a thorough look at the MX-T70, which is Samsung's best offering at around Rs. 40,000.
One look and you know, MX-T70 means business err, party! It has a triangular design with speakers on two sides for a bi-directional room-filling sound along with a 10-inch woofer in the center of the unit. At the top is the rubbery surface integrating the large controls and a small LED screen. The good thing about the rubbery texture is that it makes the MX-T70 spill-resistant, which is perfect for keeping it near a swimming pool. The MX-T70 also features a groove at the top to place a smartphone or a tablet, but the downside to placing them there is that the device will cover the tiny status display. The clean design hides the Bluetooth pairing and other buttons at the back along with USB ports and Karaoke mic connectors.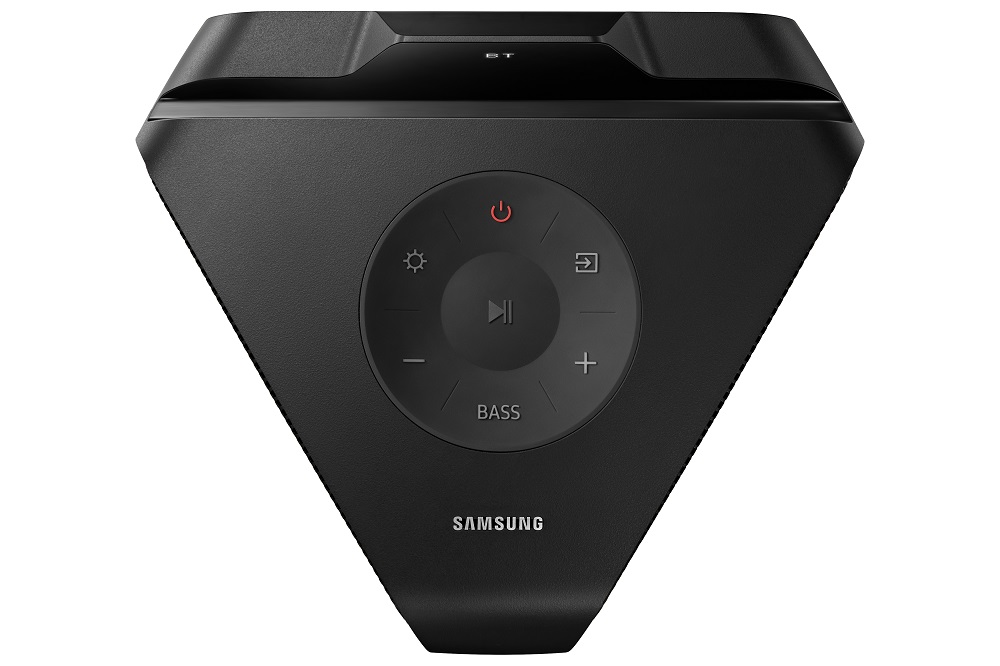 Overall, the no-nonsense design is what we like about the MX-T70, but it too comes with its share of flaws. For a speaker that is almost 3 feet in height and weighs about 30 kilograms, the MX-T70 comes with two handles at the back, which makes it difficult to move it around. Having a pair of castor wheels would have made it a lot easier to move the speaker from one room to another. There's also the issue of a short power cable that restricts the MX-T70 to be kept very close to a power source.
However, when it comes to sound, the MX-T70 does deliver. The 2-channel speakers can output up to 1500W of power and produces thumpy bass with the 10-inch woofer that can be boosted further with a touch of a button. The speakers are loud and produce audio without distortion at high volumes but don't expect a neutral sound. The MX-T70 also supports Group Play that allows connecting multiple compatible Sound Tower speakers for even louder sound.
Adding to a list of party tricks, the MX-T70 comes with fitted LED party lights that show off the lighting effect based on the song or one can easily change via some pre-set modes. There's 2-mic Karaoke mode support for duets and even supports a free app that makes it easier to tweak EQ settings, light effects and more.
MX-T70 is one of the first party speakers by Samsung, and while it has some shortcomings on the design front, the speaker makes it up for its party-tuned audio.
RATING 3.5/5
WE'RE IMPRESSED Loud sound, thumping bass
WE'D IMPROVE Portability issues
THE LAST WORD MX-T70 is a little pricey compared to the competition, but it does come with a decent set of features and bi-directional room-filling audio.