Simple and powerful personal NAS
Rs. 34,990, synology.com
Public cloud services like Google Drive, Microsoft OneDrive or Apple iCloud are some of the affordable ways to backup your files. They are easy to set up and are flexible, but you have to rely on them for security and privacy. This poses a potential issue, even though the probability is low. Next solution is to backup files on external hard drives and is useful if you want to stash them for safeguarding but if you are someone who likes to access your files regularly but also keep them private in a personal cloud, NAS is the way to go. Network-attached storage or NAS comes in different configurations and features and we take a thorough look at Synology's latest DiskStation DS220+.
The DS220+ takes over from the DS218+ with improved performance and features, but when it comes to design, the successor follows the structured design of the DS218+. The design is so identical that one can mistake the latest NAS for the former, save for the model number printed on the removable front. There are some differences, of course. First is the extra status LED for the second LAN port on the front. The corresponding Gigabit Ethernet port is placed at the back along with a USB 3.0 that has been swapped for the eSATA port.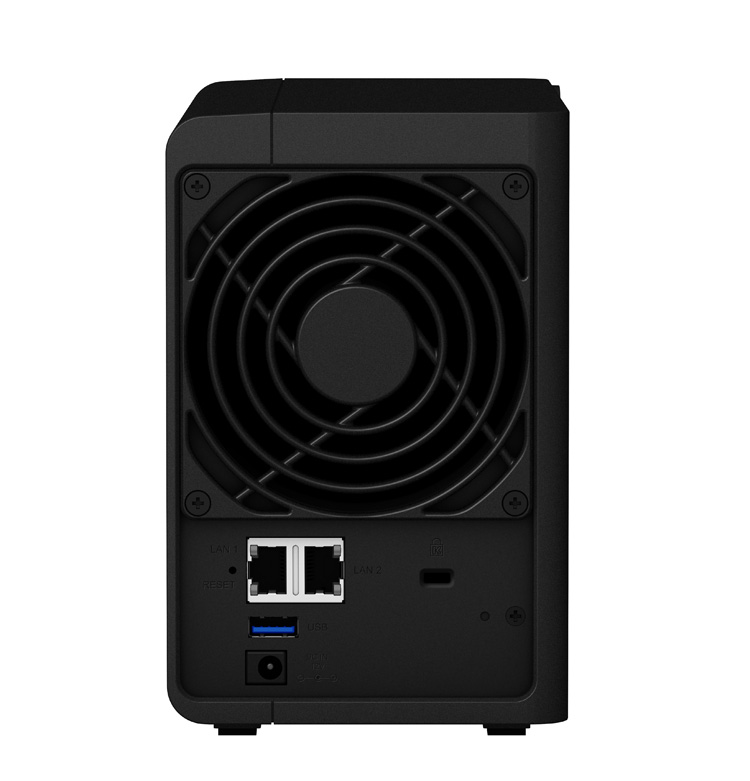 Just like every other dedicated NAS device, the DS220+ also requires an additional investment of hard drives, which one can expand as per their requirement. The DS220+ supports 32TB internal RAW capacity and the drives are hot-swappable. I would have liked the support for M.2 SSD slots, which the other Plus series NAS come with, but the DS220+ does not support it. The DS220+ initial setup is aided with helpful on-screen instructions where it installs the DiskStation Manager (DSM) on the hard disk or if you are upgrading from an existing Synology NAS, it automatically suggests the drives to migrate so that the drives are up and running with no loss of data.
DiskStation Manager (DSM) is NAS' operating system that can be accessed from your PC's browser. DSM is what differentiates the Synology NAS from others, and it is one of the best in the market. It makes the NAS more than just a storage device. The DS220+ runs DSM 6.2 but Synology will release DSM 7 later this year with more features. Users can download and install various apps and even buy from the Package Center to enhance functionality. I mainly use the NAS to store personal pictures and videos and apps like Moments, Photo Station and Video Station are perfect to categorise files and gives easy access via mobile apps. This is just one aspect, of course. One can use it as an iTunes or a Plex server to play music and movies and if you're looking for productivity, there's Office support for collaboration, backup, VPN and more.
Powering the NAS is Intel's dual-core 2GHz Celeron J4025 CPU along with 2GB RAM, which can be further expanded to up to 6GB by installing an additional 4GB module. However, if we talk about stock performance, the DS220+ is faster compared to DS218+. Moments is up to 20% faster whereas transferring files is up to 15% faster with improved indexing. Dual LAN ports bring Link Aggregation that helps to increase the bandwidth of the NAS and switch to another connection, in case of a failover.
The DS218+ was a reliable NAS and DS220+ just makes it better with its improved performance, up to 6GB of upgradeable RAM and dual LAN support.
RATING 4/5
WE'RE IMPRESSED Performance
WE'D IMPROVE M.2 SSD support
THE LAST WORD Setting up a personal NAS is expensive than public cloud services initially, but it gives complete control of your data and easy scalability in terms of storage.