WD's latest portable external storage is small and fast
From ₹8,999, wd.com
Portable external drives have been shrinking in size, and the use of SSDs over the years is one of the reasons. WD's latest My Passport SSD shrinks them further with its palm-sized form factor and promise of unfettered speed. But is the upgrade worth it? We find out.
The first and foremost thing to notice about the My Passport SSD is its size. It's tiny, fits in one's palm and is super lightweight. It's not fat either, given the width is about 3-4 credit cards stacked together. The patterned metal enclosure looks premium along with the embossed logo and adds to durability too. WD says the My Passport SSD can withstand some amount of shock and vibration and is drop resistant to up to 6.5ft. WD probably wanted to keep things as clean as possible, which is why you will only find the USB Type-C port at the bottom of the drive. The drive does not have a status LED light that keeps you from knowing if the drive is connected or transferring any data. The only limitation with the metal chassis is that it gets hot when you are transferring data. It does not affect the drive's performance, but the heat transference from the SSD inside the body is instant. WD bundles a small Type-C to Type C cable that supports USB 3.2 Gen 2 and for wider compatibility, bundles a USB Type-C to Type-A adapter.

The drive comes pre-formatted (exFAT filesystem) that enables it to work on Windows or Mac out-of-the-box and since it is based on NVMe technology, the My Passport SSD is rated to deliver a sequential read speed of up to 1050MB/s and write speed of up to 1000MB/s. We tested its claim with Crystal DiskMark 7 (default profile) and the read speed breached its claimed speed to 1062MB/s and write speed to 962MB/s. If we compare random read and write speeds, it hovers around at 153MB/s and 166MB/s respectively. The real-world usage will vary compared to a synthetic benchmark, but needless to say the My Passport SSD is fast.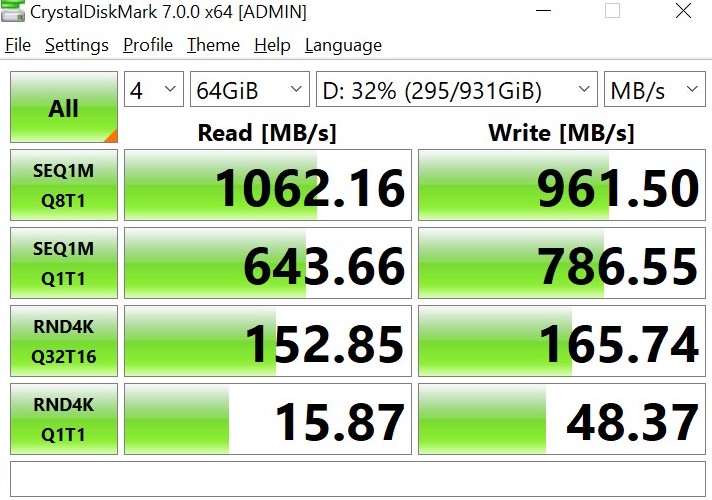 The My Passport SSD also supports password-enabled 256-bit hardware AES encryption and a couple of other WD apps like WD Drive Utilities and WD Backup.
My Passport SSD is competitively priced with storage options starting from 500GB and goes up to 2TB. It does not have a fingerprint sensor like its closest priced competitor but it has fast data transfer speeds, compact design and different apps to enhance the drive's functionality.
RATING 4/5
WE'RE IMPRESSED Design, performance
WE'D IMPROVE Heats up
THE LAST WORD The NVMe My Passport SSD is an excellent storage solution if you are looking for super-fast performance in a compact, premium form factor.