Price: ₹1,87,500
Xgimi is a popular projector manufacturer based in China. Their portfolio includes portable projectors designed for extreme convenience and with cutting-edge technology. The Horizon Pro is a portable DLP projector that won the EISA Award for Best Buy Projector.
Well-designed would be an understatement for the Xgimi horizon pro. We have reviewed quite a few projectors in the past, but none of those affords the portability and 'clean' design that this device offers. Measuring 208.4 x 218.4 x136.2mm and weighing 2.9kg, the projector is extremely portable and comes with an equally well-designed and sleek remote control.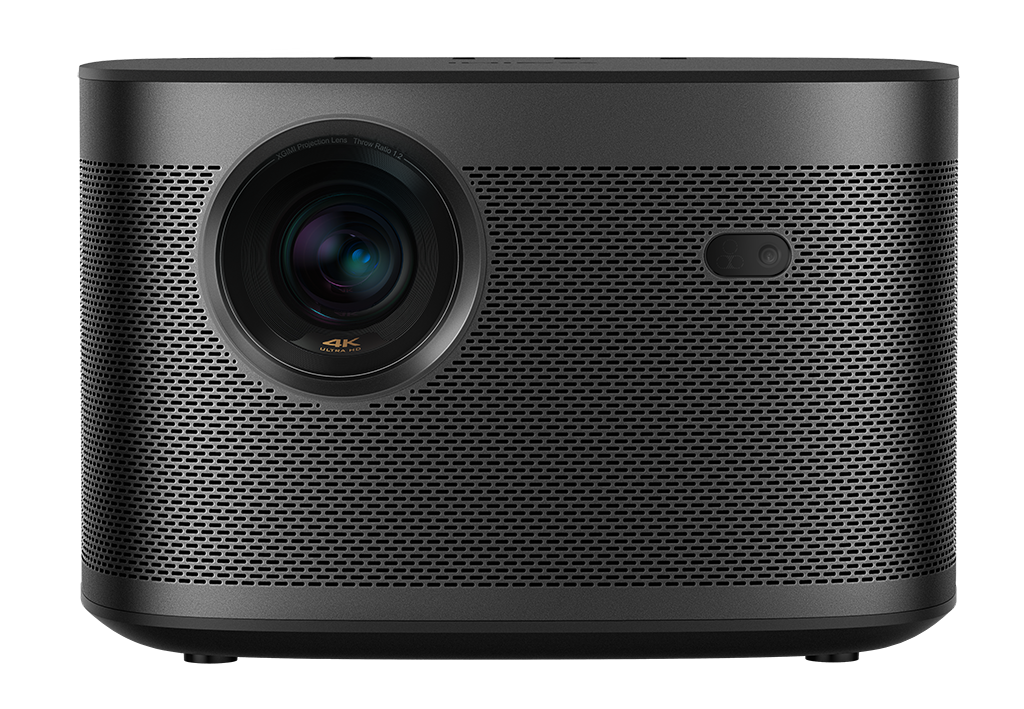 This 4K (3840 x 2160) projector can be used to project at up to 300 inches, however, we would put this at 200 inches for optimum image quality. Though this is not an ultra-short-throw model, the device features Intelligent Screen Adaption Technology, which offers the convenience of automatically finding and setting up the ideal projection area in a matter of seconds, making the whole process a breeze. To elaborate a little, the Horizon Pro uses automatic focus and keystone correction along with AI object detection to set up your projection area intelligently. It even incorporates an Intelligent Obstacle Avoidance system to avoid obstacles such as power sockets and furniture in the room to find the ideal projection surface even if you are using a wall to project the image. It also automatically matches your screen size with the size of the projected image in case of a screen being used. This eliminates the requirement of having the projector in straight line and perfectly parallel with the screen. If you are not satisfied with the result, you can always use the manual alignment option, which allows you to finely shift the position of each corner of the image area.
At 2200 ANSI Lumens, the Horizon Pro delivers bright projection with a wide dynamic range and excellent sharpness. The device uses Xgimi's X-VUE 2.0 Image Engine for clarity and realistic colour reproduction. With MEMC (Motion Estimation and Motion Compensation), the projector delivers low latency with the least image blur aided by proprietary 60Hz motion compensation technology, making it ideal for gaming too. The device offers HDR 10 and is 3D compatible. Further, the AI Brightness Adjustment feature ensures that the projector adapts to ambient light changes. Xgimi claims life of 25,000 hours for the lamp. The Horizon Pro offers two HDMI 2.0 ports along with two USB 2.0, LAN and a 3.5mm headphone jack. It uses dual-band 2.4/5G Wi-Fi and Bluetooth for seamless connectivity. A TÜV Rheinland certification assures you of low blue light for better eye care.
Movie watching experience is only as good as the sound reproduction, and the Horizon Pro got you covered here as well. Professional sound design by Harman Kardon ensures immersive DTS studio surround sound with the help of two 8W, 45mm full-range speakers. The system provides low distortion and high dynamic response along with a virtualised surround sound experience. The result is truly mesmerising for such a small device.
The projector integrates Android TV, Google Play Store and Google Assistant for a seamless OTT experience. You can use the remote to access the voice assistant and control your connected smart devices. It also comes with Chromecast built-in so that you can cast your content, apps, and games directly to the device for a more immersive experience.
---
RATING
WE'RE IMPRESSED Portable and neatly designed, intelligent framing and focussing, excellent image quality, impressive surround sound
WE'D IMPROVE No backlighting on remote, no optical zoom
THE LAST WORD This device projects its brilliance in every department. Need we say more?