RHA has announced an upgrade to its popular MA650 earphones for iPhone users. the MA650i brings RHA's premium quality sound but now comes with a lightning connector for iPhones. Having a lightning connector means an iOS user doesn't have to use the earphones with a connector but connect it directly that also allows full call along with audio control and Siri functionality.
The custom dynamic driver help deliver audio and features premium materials to create aerophonic housings that RHA is known for. Additionally, the MA650i with Lightning comes with a wide range of ear tips to ensure best fit, including Comply Foam and also a mesh carry pouch and convenient clothing clip.
Specifications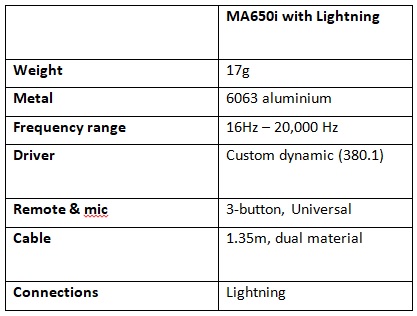 The RHA MA650i comes with a three-year warranty and is available online and in-store for Rs. 6,999. The device is also available at Headphone Zone.