Portable speakers are dime a dozen but the Sony SRS-XB402M is a cut above the rest. Packed within it are all the features you could ever ask for and more. Don't just take our word for it, read on and see how.
Alexa inside
Amazon Alexa has been deeply integrated so now you can use your voice to perform a plethora of tasks. Be it playing a particular track, cranking up the volume, checking the traffic or heck, the weather – all this is possible without the press of a single button.
Battery galore
A full charge delivers a solid 12 hours of battery life whereas turning Extra Bass mode on gives 11 hours. It also remains on standby for an ample amount of time so you can easily resume from where you left. While some Alexa speakers don't even run without a dedicated power cable, you can top SRS-XB402M up with the bundled AC adapter or MicroUSB cable.

Live in the moment
Now feel as if you're right in the middle of a concert with Live Sound. Turning it on adds a unique three-dimensional experience that outputs the audio in a way giving them that special "live" touch.

Bass to the max
Get that added punch in your sound with Extra Bass turned on. The lower frequencies are enhanced and powerful sound pressure is distributed across a wider area bringing bass lines front and center. Never miss even a
single beat.
The party is LIT
Brighten your party with built-in lights comprising a flashing strobe and multicolour line lights that perfectly sync to the currently playing music.
This can be configured to illuminate in a large number of cool and futuristic patterns. Every room is a disco with SRS-XB402M!
Always in control
Be in full control of the experience with Sony Music Center app available on Android and iOS. An intuitive and responsive interface lets you queue songs, change lighting patterns, sound modes, select playlists with the list going on and on.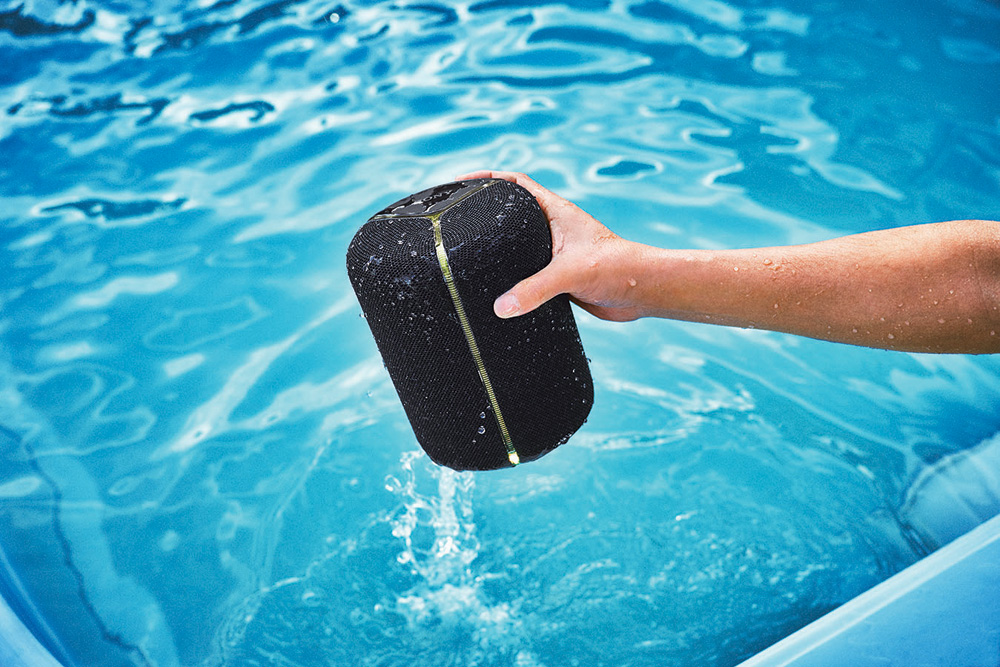 Complete IP67 Protection
Toughness and durability are assured in the SRS-XB402M given the IP67 rating. It can survive getting immersed in water up to 1m for 30 minutes and being rustproof, even seawater won't damage it. It can also block dust so will fare excellent in any sandy environment as well. What's more, it is shockproof and conforms to MIL-STD 810G testing standard and thus a small drop is nothing!

Supreme Connectivity
Pair seamlessly with your smartphone via Bluetooth upto a maximum distance of 30m and start streaming your collection in a jiffy. After connecting with Wi-Fi unleash Alexa or access a variety of streaming services and bask in aural delight.
Thoughtfully designed
The looks aren't just for show with each and every design choice having a specific purpose. The revamped front grille has slanting holes that allow for more sound to escape while the rounded shape evenly distributes vibration to decrease interference and lower distortion.