Building on their famous 'Party Speaker' line-up, Sony has announced the launch of four new speakers: the MHC-V83D, MHC-V73D, MHC-V43D, and the MHC-V13D, with the first three being new and upgraded models of their respective predecessors and the last one being the first of its kind. These audio systems are packed with experimental party lights and smart features that would work in tandem with the user's smartphone to enable ease of use whilst maximising the fun.
The V83D and the V73D – which are 105.1 and 92.1 cm in height, respectively – feature the 'Omnidirectional Party Sound' technology which strives to ensure that the sound reaches to every corner of the venue. The Omnidirectional Party Sound, as Sony puts it, "is a result of combining the front and rear tweeters, the midrange, a woofer, and the Jet Bass Booster." The V83D and V73D feature four tweeters at the front and rear.
These two models also help set the ambience right for the party through the newly-integrated 'Omnidirectional Party Light and Speaker Light' feature Creating the feel of a nightclub, these party speakers can send out waves of deep blue, sky blue, purple, and green lighting, along with 'multi-coloured stripe lighting'.
Speaking of the V43D and the V13D – which are 79.5cm and 60cm in height, respectively – both of them feature the 'Spread Sound' feature, which consists of two front tweeters and the midrange. The V13D comes with woofer lights which can help families get a different mood in a part of their home.
All the speakers come with a range of exciting features. Each of them consists of guitar inputs and they allow selection of three different guitar modes. All four also feature a Karaoke input. These new speakers are also tied with the 'Fiestable' App which can be downloaded on smartphones. This app enables attendees to become DJ's by contributing to the playlist by inserting their favourite songs from their phones.
The V83D and V73D also feature a special feature called the 'TAIKO' mode, where users can play along samplers including bongo, djembe, surdo and the Japanese Taiko drum 'simply by tapping the top panel in time to the beat'.
All the features and compatibilities of the speakers are listed in the table below: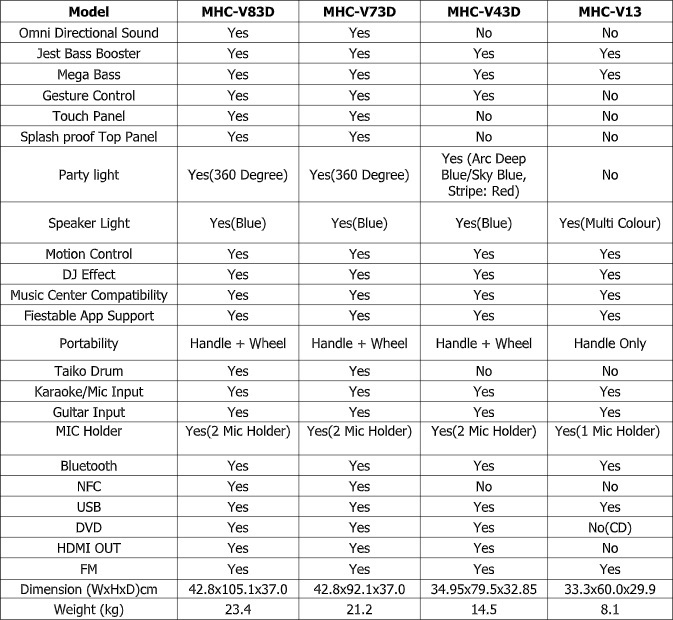 With a splashproof panel, the speakers are built with a hard plastic exterior that covers all sides of the unit and also has strong corner protectors. The V83D also comes with a convenient carry handle and sturdy castors.
The MHC-V83D, MHC-73D, MHC-43D, and the MHC-V13 cost Rs. 56,990, Rs. 44,990, Rs. 31,990, and Rs. 16,990 respectively and are available from 27th August, 18th September, 18th September, and 16th August, respectively. For more information, please visit this page.