Choosing the Top 10 tracks from Bollywood is no easy task. It is also very subjective. The T3 selection gives a lot of importance to the longevity of the film's music. An album that is popular long after its release and sounds fresh or relevant even today has a lot going for it.

Words: H. S. Billimoria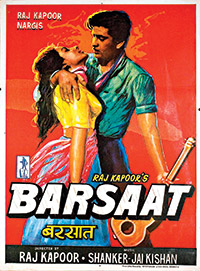 1) BARSAAT ( 1949 )
Barsaat, which was released in 1949, had three major distinctions:
i) Barsaat catapulted the careers of Raj Kapoor and Nargis to stratospheric heights ii) It launched the career of Shankar and Jaikishan who came together for the first time and created an album to remember iii) Shankar Jaikishan chose an unknown Lata Mangeshkar to playback 9 of the 10 songs. Lata never looked back. Never in the history of Hindi film music had the music created such an impression. Barsaat was easily the best selling music of the 1940s. To youngsters who have not heard this album, rush and listen to it. No Shankar Jaikishans are likely to emerge from Bollywood anymore. Just sample three tracks – 'Mujhe kisise pyar ho gaya', 'Jiya bekarar hai' and 'Hawa mein udta jaayen', all Lata solos. Lyrics were provided by the newly discovered Shailendra and Hasrat Jaipuri. However, two songs were written by Ramesh Shastri and Jalal Malihabadi respectively. Barsaat's music is indeed special; how else do you explain its magnetic power a full 70 years later?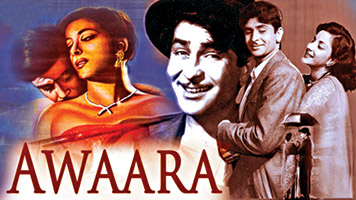 2) AWAARA ( 1951)
Awaar was released in 1951 and featured Raj Kapoor in the role of the tramp/ vagabond. Nargis was the heroine. Shankar Jaikishan's music again hit the jackpot and the title song, 'Awaara Hoon' rendered by Mukesh, became an international success. It saw phenomenal popularity in the Soviet Union, China and the Middle East. Apart from Lata and Mukesh, Shamshad Begum , Mohammed Rafi and Manna Dey also featured in the album. One more legendary song from the film was 'Ghar aaya mera pardesi', Bollywood's first dream sequence and it is very popular even today. With Awaara, Shailendra and Hasrat Jaipuri became the permanent lyricists of Shankar and Jaikishan.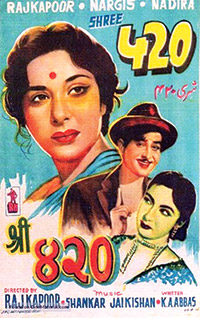 3) SHREE 420 ( 1955)
Released in 1955, Shree 420 was, in many ways, a sequel to Awaara. Raj Kapoor again starred with Nargis and played the role of the tramp to perfection. Shankar Jaikishan again came up with a magnificent score with the Mukesh number, ' Mera joota hai Japaani' becoming a cult number. Manna De joined Lata for the romantic duet, ' Pyar hua ikraar hua' and Mohammed Rafi joined Mukesh and Lata for the legendary 'Ramaiyya Vastavaiyya'. These Telugu words were used by Shankar, who although a Punjabi, was raised and brought up in Hyderabad.



.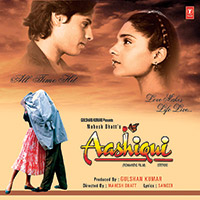 4) AASHIQUI ( 1990 )
Nadeem Shravan hit the musical scene with a bang in 1990 with Aashiqui. Credit goes to the late Gulshan Kumar who had a terrific ear for music and saw the talent in the Nadeem Shravan duo. If a film ran only on the strength of its music, it was Aashiqui. The film had 9 intoxicating numbers, all equally good. Just as Shankar Jaikishan had catapulted Lata Mangeshkar to fame with 'Barsaat', Nadeem Shravan made Kumar Sanu a household name. Yes, there is some Pakistani influence in the music but that does not diminish the musical genius of Nadeem Shravan. With Aashiqui, the combination of Nadeem Shravan, Sameer and Kumar Sanu became a hit combination.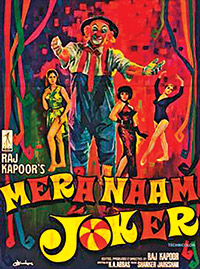 5) MERA NAAM JOKER ( 1970 )
When 'Mera Naam Joker' was released, it was a big flop. Raj Kapoor had clearly got carried away and made a film that was far too long and heavy. The movie got a new life thanks to Shankar Jaikishan's music. The movie had 12 songs of which 3 were left on the recording table because the movie was proving to be far too long. On the video circuit, 'Joker' became a huge hit. Randhir Kapoor confessed that the highest music royalty received by R K Films was for "Joker'. Three songs of Joker are immortal. All of them are philosophical. Manna De's ' Ae bhai zara dekhke chalo' is perhaps his most popular song ever. ' Jeena yahan, marna yahan' by Mukesh is so meaningful and full of pathos, it can bring tears to your eyes. Finally, 'Jaane kahan gaye woh din' again by Mukesh is an emotional number that tugs at the heart. All the other numbers are also very special. Such was Bollywood in those days that even after such a magnificent effort, the failure of the film made Raj Kapoor look for other music directors. The role of 'Brutus' was played shockingly by Mukesh who took Raj Kapoor to Laxmikant Pyarelal. Mukesh, actually, owned his entire career to SJ who very often had fought to have Mukesh sing their songs. E.g. Yeh mera diwanapan hai in Yahudi.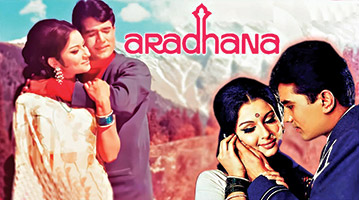 6) ARADHANA ( 1969 )
Until Aradhana, Shakti Samanta specialized in producing crime dramas. With Aradhana, he made the move to love stories and hit the jackpot.
Aradhana made the careers of Rajesh Khanna and Kishore Kumar. It featured S D Burman at his very best. All the songs were of a very high standard but ' Roop tera mastana' and 'Mere sapnon ki rani' remain evergreen numbers. Sadly, Aradhana did not pick up any major music awards. This is a commentary on the awards rather than on the superb music of S D Burman.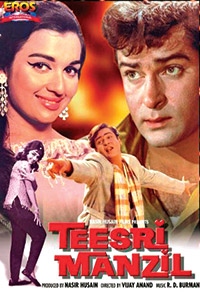 7) TEESRI MANZIL ( 1966 )
All of Shammi Kapoor's movies had excellent music. This was because he had made a remarkable combination with Shankar Jaikishan. Nasir Hussain had a huge hit with Shankar Jaikishan in 'Jab Pyar Kisise Hota Hai'. SJ were riding the crest of success and were overwhelmed with assignments. Nasir Hussain wanted to try out Rahul Dev Burman. Shammi Kapoor had reservations but eventually gave in. A young Rahul Dev Burman proved that he also could achieve magic with Shammi Kapoor and 'Teesri Manzil' became a huge musical hit. 'O mere sona', ' O haseena zulfonwali' and ' Aaja aa aa aaja' were monster hits in their time and are popular even today. Teesri Manzil brought in a new trend of racy and foot tapping dance music.
8) GUIDE ( 1965)
Dev Anand's ' Guide' ranks amongst his best movies. Contributing in no small measure was S D Burman's delightful music. 'Gaata rahe mera dil' and 'Kanton se kheench ke ye aanchal' still move song lovers and Mohammed Rafi's ' Din dhal jaaye' brings in the emotions. Shailendra's lyrics lent greater meaning to the songs. Song picturisation was also top class. No doubt, Guide was a musical milestone for both Dev Anand and S D Burman.



.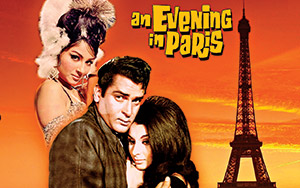 9) AN EVENING IN PARIS ( 1967)
Wow! One more Shammi Kapoor film! This one deserves its place only for one reason – the longevity of the music and its freshness even today. Inerestingly, all the numbers of the film were composed by Shankar, bar one. Jaikishan's contribution was the 'Akele Akele' number. All the songs carry rich orchestration. Just listen to the title track or the 'Deewanon ka naam to puchho' number and you could feel that they were composed today! Again, 'Raat ke humsafar' ranks amongst the most romantic duets ever. A superb album, indeed. The lead pair of Shammi Kapoor & Sharmila Tagore lent extra punch to the picturisation.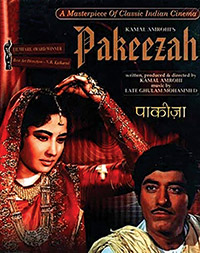 10) PAKEEZAH (1972)
Long in the making, Pakeezah finally made it to the theatres in 1972. What a film and what a brilliant musical score! Ghulam Mohammed was the music director but he died before the film could be completed. Naushad stepped in and did the needful. Lata Mangeshkar is in full form and songs like 'Chalte, chalte', ' Inhee logon ne' and 'Chalo dildaar chalo' are immortal. Yes, we know that the younger generation has no stomach for classical or semi classical tunes. However, Pakeezah clearly shows what they are missing. As an ethnic score, Pakeezah has no equals.