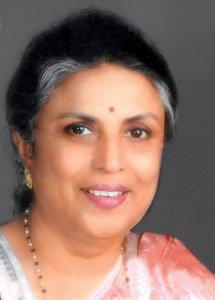 Words : H. S. Billimoria
Suman Kalyanpur was born as Suman Hemmady in 1937 in Dhaka, now in Bangladesh. Her family moved to Mumbai when she was six years old and all her musical training took place in Mumbai. Suman sang her first song in 1954 for the film 'Darwaza', along with Talat Mehmood. After that, her career never looked back and to date she has sung nearly 700 songs in different languages.
Suman Kalyanpur's voice had a striking similarity to Lata Mangeshkar's. This was both an advantage and a disadvantage. Playback singing of the 60s and 70s was dominated by Lata, who could ensure that Suman would not get a chance. The advantage was that when Lata had her clashes with music directors like Shankar Jaikishan and SD Burman, Suman Kalyanpur became their first choice.
In fact, Shankar Jaikishan made the maximum use of Suman Kalyanpur and any compilation of her top hits would naturally include a number of SJ films including duets with Mohammed Rafi.
Aajkal Tere Mere Pyar from Brahmachari (1968)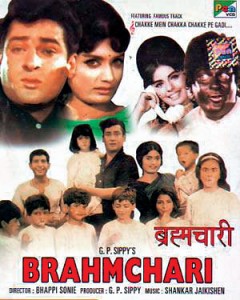 This duet by Mohammed Rafi and Suman Kalyanpur was probably Suman Kalyanpur's most popular song ever. The music of Brahmachari won Shankar Jaikishan the award for best music directors in 1968. Both Shammi Kapoor and Mumtaz have danced to this lively number with aplomb. Hasrat Jaipuri wrote the lyrics.
Chale Ja, Chale Ja from Jahan Pyar Miley (1969)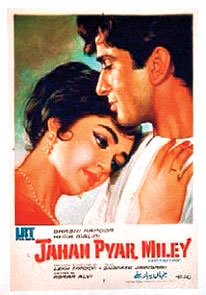 The title song of the movie was a big hit. This number has been separately sung also by Mohammed Rafi. Both solos were picturised on Shashi Kapoor and Hema Malini. According to Suman Kalyanpur, this is her favourite number.
Tujhe Dekha from Chhotisi Mulaqat (1967)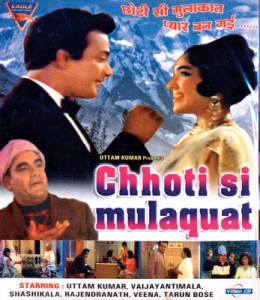 Chhotisi Mulaqat featured the unique pairing of Uttam Kumar and Vyjayantimala. Even though the film flopped, the music was a huge hit. This Rafi and Suman Kalyanpur duet is extremely melodious and was picturised on Uttam Kumar and Vyjayantimala.
Dil Ek Mandir Hai from Dil Ek Mandir (1963)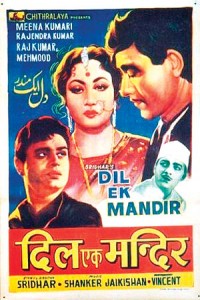 Sridhar's Dil Ek Mandir was a runaway hit featurig the trio of Rajendra Kumar, Meena Kumari and Raj Kumar. It had fantastic music by Shankar Jaikishan. The title song is a Suman duet with Rafi and was a big hit. In addition to that teack, the movie also had another lively Suman solo, which was titled, Juhi Ki Kali.

Tumne Pukara Aur from Rajkumar (1964)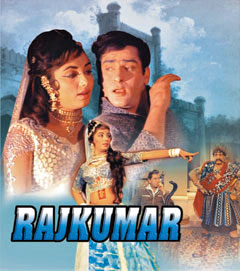 This is an extremely popular duet picturised on Shammi Kapoor and Sadhana. Playback was provided by Suman Kalyanpur and Mohammed Rafi..
Behna Ne Bhai Ki from Resham ki Dori (1974)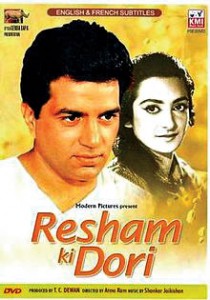 The Rakhi is very sacred for most Indians and this Rakhi song by Suman Kalyanpur became an instant hit and can be heard on the radio even today. This song won Suman Kalyanpur a nomination for the best playback singer in 1974 at the Filmfare Awards. The song was picturised on Dharmendra and Kumud Chhugani and was written by Indeevar.
Dil Ki Kitaab from Yaar Mera (1971)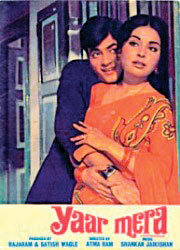 Yaar Mera was a flop but this duet with Rafi was extremely melodious and hit the charts when the film was released. Jeetendra and Rakhee performed the song on the screen.
Ek Thi Neendiya from Seema (1971)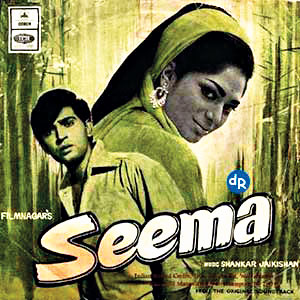 Picturised on Simi Garewal, this lori (lullaby) has been beautifully rendered by Suman Kalyanpur and. Lyrics have been provided by Gulzar and music by Shankar Jaikishan.

Bezubaan Dil from Dur Naheen Manzil (1973)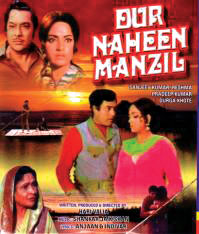 This Sanjeev Kumar film had two Suman Kalyanpur numbers. Bezubaan Dil has some very meaningful lyrics by Anjaan, who worked with Shankar Jaikishan for the first time. The second number, which is the title song, suffers from very poor recording.

O Chori Chori from Chori Chori (1974)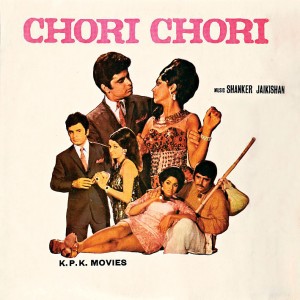 The title song of Chori Chori (not to be confused with Raj Kapoor's Chori Chori) was rendered with elan by Suman Kalyanpur and Manhar Udhas. Lyrics have been provided by Gulshan Bawra. The song was performed on screen by Sanjay Khan and Radha Saluja.
Mere Yaar Ki Yaari from Insaniyat (1974)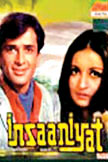 A Shashi Kapoor-starrer, this movie has a duet by Mohammed Rafi and Suman Kalyanpur. The foot-tapping song is racy and full of zest. Hasrat Jaipuri provided the lyrics and Shankar Jaikishan the music.
Ajhum Aaye Balma from Sanjh aur Savera  (1964)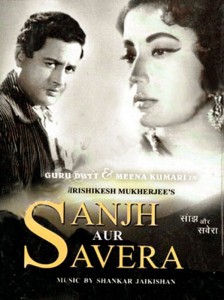 This is an extremely melodious duet picturised on Mehmood and Shobha Khote. Hasrat Jaipuri wrote the lyrics.
Na Tum Hume Jaano from Baat Ek Raat Ki (1962)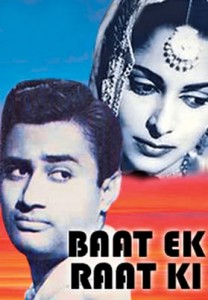 This is the best song SD Burman has composed for Suman Kalyanpur. The film Baat Ek Raat Ki, starring Dev Anand and Waheeda Rahman, was highly successful and Na tum was the top hit number from this film. Releasing in 1962, this film showcased Suman Kalyanpur's singing talent to the musical world. In the duet version, Hemant Kumar joins Suman Kalyanpur.

Tumse O Haseena from Farz (1967)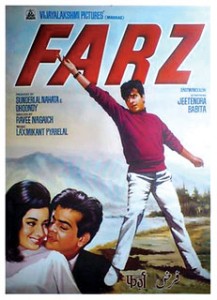 Laxmikant Pyarelal rarely used Suman Kalyanpur. This Farz duet with Rafi was one rare occasion and it proved to be a hit number.
Na Na Karte from Jab Jab Phool Khile (1965)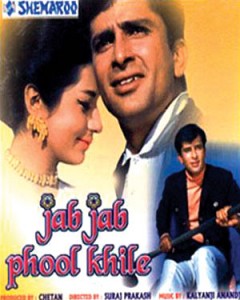 Jab Jab Phool Khile had fantastic music by Kalyanji Anandji and this duet by Rafi and Suman picturised on Shashi Kapoor and Nanda was a big hit. It was a little overshadowed, however, by other hit numbers in the film.

Mera Pyaar Bhi Tu Hai from Saathi (1968)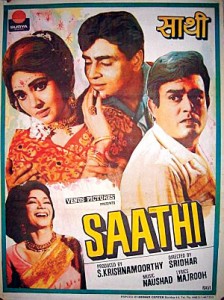 Naushad used Mukesh and Suman Kalyanpur to render this beautifully composed romantic number from Saathi, a Rajendra Kumar, Vyjantimala and Simi Garewal starrer. Majrooh Sultanpuri provided the lyrics.

Main Ek Paheli Hoon from Ek Paheli (1971)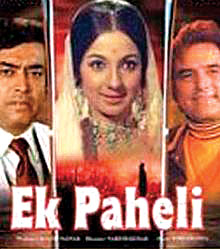 This Feroz Khan-Tanuja starrer had good music by Usha Khanna and the title song by Suman Kalyanpur was the favourite track.
Title song from Dil Ne Phir Yaad Kiya (1966)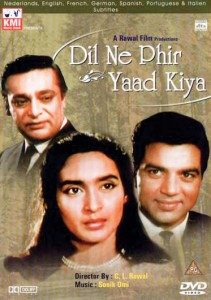 Sonik Omi provided the hit music for this Darmendra-Nutan starrer. The title song sung by Rafi, Mukesh and Suman Kalyanpur was an instant hit.

Mere Mehboob from Noor Mahal (1965)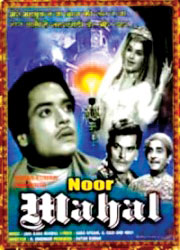 A little-known film, Noor Mahal had some unforgettable melodious from Jani Babu. This solo by Suman Kalyanpur was the best.

Tu Jungle Ki Morni from Raja Saab (1969)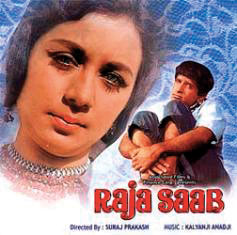 This follow-up to Jab Jab Phool Khile was a big flop. However, the Rafi-Suman duet writtten by Anand Bakshi and tuned by Kalyanji Anandji was the saviour.
Other songs that could make this list are Suman's duets with Rafi in April Fool (1964), Kahdo Kahdo Jahaan Se Kahdo and Tujhe Pyar Karte Karte, and a duet from Beti Bete (1964), Agar Tera Jalwa. Also, the title song of Badaltey Rishte (1978) sung by Suman with Rafi and Kishore.
Suman's sonorous solo, Main Teri Prem Deewani from Rivaaj (1972), written by Neeraj with the tune by Shankar Jaikishan, is a classic example of how Suman's voice resembled Lata's.