Breaking the barriers of aerial cinematography with tiny drones
A tiny drone flies through a neighbourhood in Los Angeles, zips through precarious gaps of an archway, over houses, in between palm trees, through a small gymnastic ring to eventually reveal a glorious sunset over a California beach – all in one fluid aerial shot. This award-winning video 'Muscle Up' was shot by American drone pilot and video effects specialist Robert McIntosh back in 2017, not a fancy stabilised drone, but a tiny 'whoop drone' mounted with a zip-tied de-cased GoPro Hero 4 and a LiPo battery. The best part? It weighed just 120g and Robert built this drone himself.
This marked the beginning of the trend of the Cinewhoops, allowing drone pilots and cinematographers to capture stunning visuals that are otherwise impossible with the likes of a stabilised drone like the DJI Mavic Mini or Spark.
In the last eighteen months globally, Cinewhoops have been gaining immense popularity among drone enthusiasts. These tiny drones, especially those weighing less than 250g, are stretching the creative possibilities of aerial videography, content creation, and professional aerial cinematography.
We caught up with some of the biggest names in the international FPV circuit and budding professional Indian FPV cinematographers who emphasised how Cinewhoop use is growing exponentially and punching way above its weight.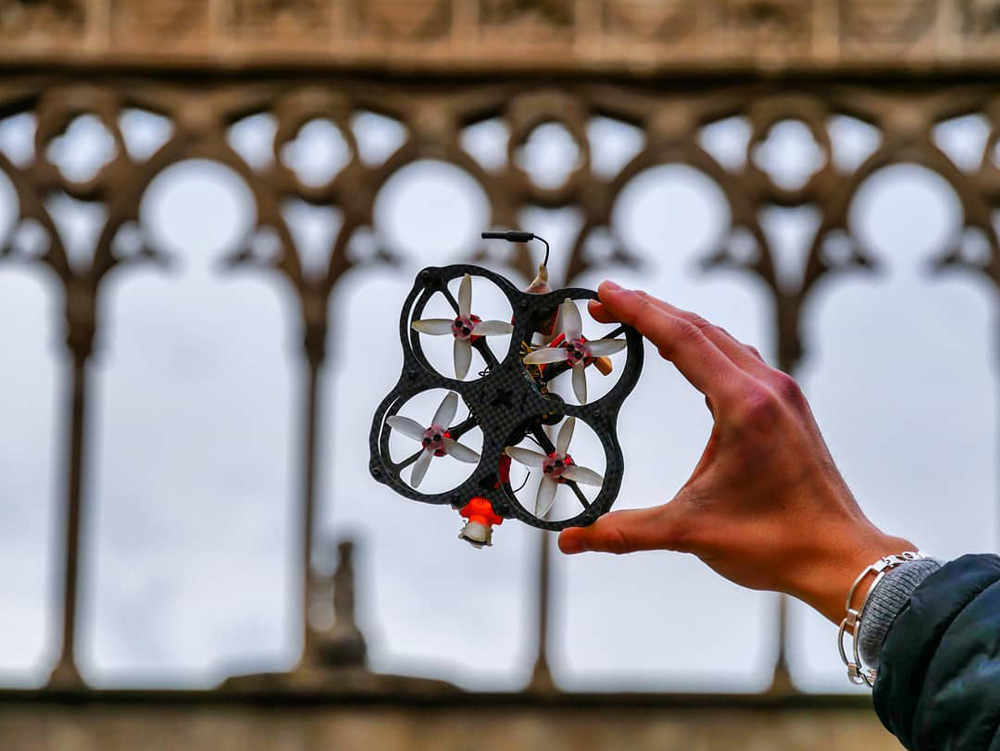 So, what's a Cinewhoop and why it's taking off?
A Cinewhoop traditionally is a type of a First Person View (FPV) drone used for capturing stable cinematic video footage in locations otherwise difficult to shoot and nimble enough to manoeuvre closer to the subject at slow and high speeds. They are much smaller, around 2-3 inches in size, and come equipped with propeller ducts, an HD or a 4K camera, and can be custom built by a user. Some can weigh up to 500g depending on the type of camera mounted atop. It gets its name from 'whoop' aka 'Tiny whoop' drones.
The concept of a Cinewhoop was pioneered and made popular by Robert McIntosh, whose video 'Muscle up' won him awards at GoPro and the New York City drone film festival back in 2017.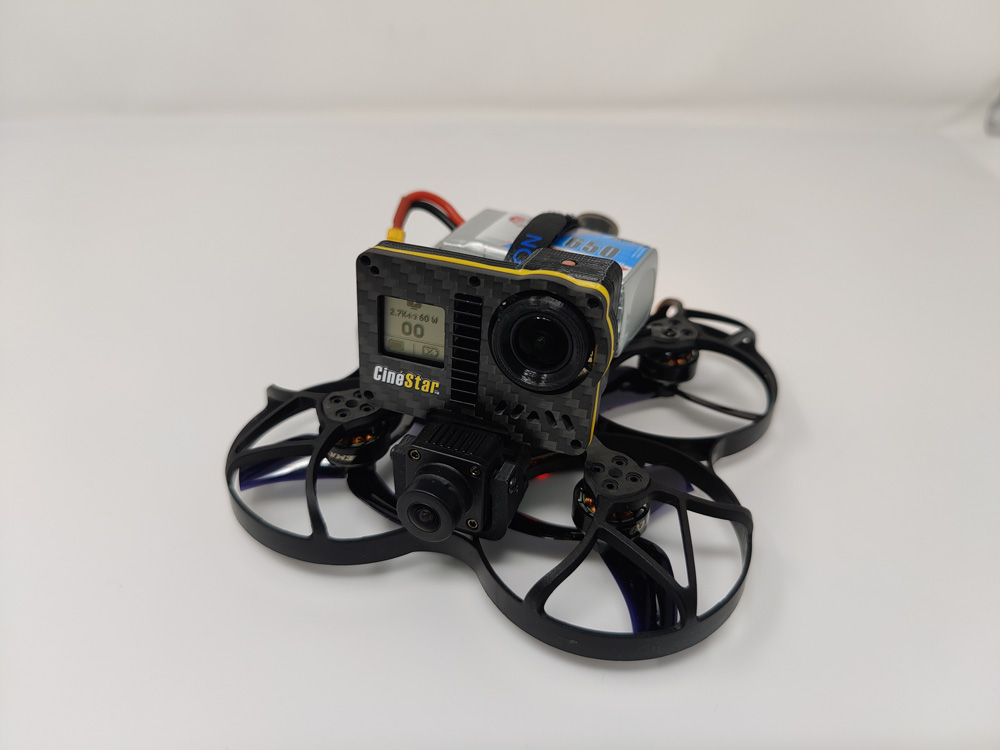 Cinewhoop vs Stabilised drone
Stabilised drones from established manufacturers like DJI, Autel or Parrot are built to be autonomous, which means these drones can hover in the same place without requiring any command from the radio controller. They come with several sensors and have capabilities such as GPS, high-resolution gimbal cameras and you can connect your mobile device to view the live feed from the camera. In a larger perspective, they have their own use case to shoot pictures and videos but the shooting flexibility is very limited with standard types of shots. Moreover, it is not advisable to fly these drones indoors. In the event of a crash, repairing these drones is expensive and they're not designed to be repaired by the user.
Cinewhoops, on the other hand, offer creative freedom from an aerial perspective that stabilised drones cannot. You have an FPV view through your drone's camera via FPV goggles giving you the feeling of sitting inside the cockpit of the drone. Unlike stabilised drones, with Cinewhoops you can fly freely in the air, dive, roll, flip or even rip down mountains, buildings and tracks, pass-through windows, fly under tables, and through the tightest of gaps. The agility of the Cinewhoop and fluidity of the movement is unmatched. They are made to fly indoors and outdoors and are perfectly safe to fly at home and around people.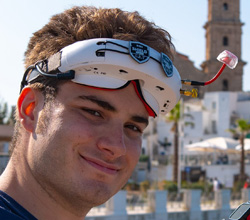 Andrea Zega aka Rimzler, a 23-year-old Italian Cinewhoop enthusiast and a notable aerial cinematographer tinkering with drones since 2013 says that Cinewhoops are perfect to create fluid shots. He along with his friend Bruno Sisti part of the Insta360 team has worked on the first custom sub-250g drone capable of shooting full 360 unobstructed video footage. "Cinewhoops just like the bigger FPV brothers have a very distinct way of flying, creating a smooth rollercoaster-like point of view, they are perfect for creating long takes and movements are fluid, compared to commercial drones (DJI) that move in a more linear kind of way, another advantage of Micro Cinewhoops is that they are super agile and safe, you can fly indoors and hit all the gaps, something that is impossible with standard solutions," he says.
Rimzlers Instagram handle (@rimzler) brims with footage shooting in narrow and precarious places such as churches, shops, towns, gyms, factories, offices, and around people.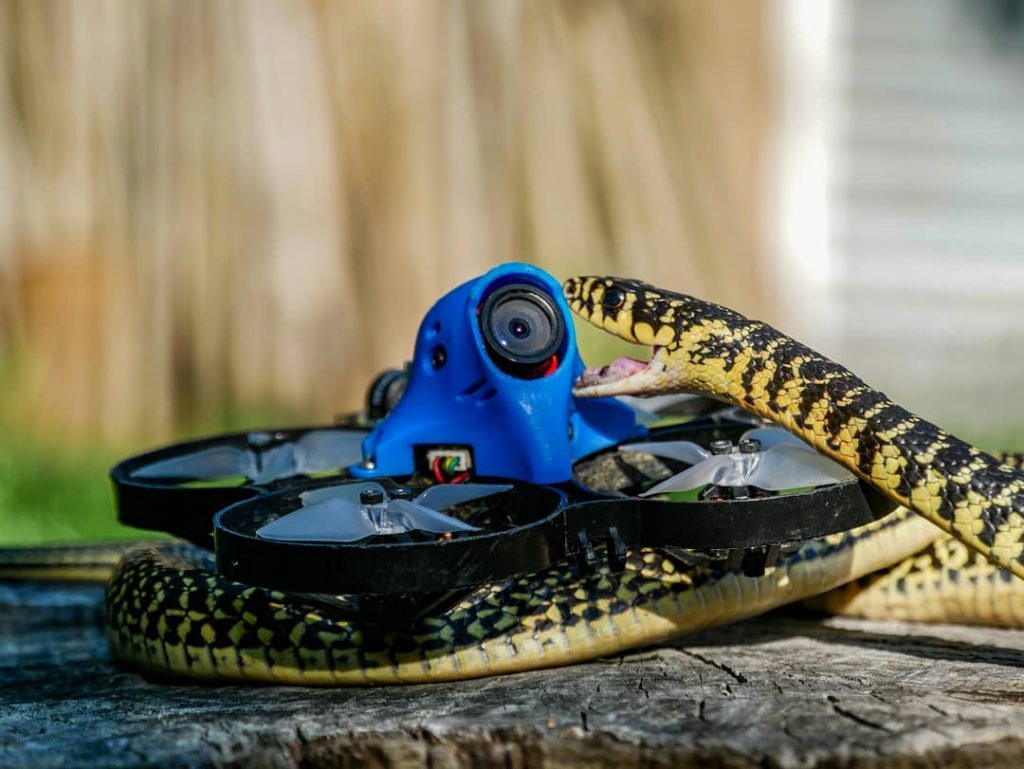 Benoit Finck aka Fincky, one of the biggest names in aerial cinematography, has shot for brands like Oakley, Adidas, covered the Drift Masters European Championship and has even shot music videos. Having toured the world capturing breathtaking and immersive aerial experiences on his Cinewhoop, Fincky is betting big on the Cinewhoop trend, which he says is here to stay.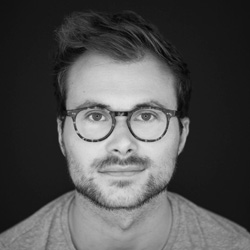 "I use a Cinewhoop when I have to fly pretty fast around people on foot, skateboarding, or even biking, or when I need to go through extremely small gaps. The Cinewhoop trend is definitely here to stay as it brings a really different perspective to the table. You can fly them in places you can't fly bigger drones, the experience is unique. For sub-250g Cinewhoops to record 1080p or 4K footage, you'd require a very small camera like the Insta360 Go, or a de-cased GoPro. The brands I have worked with have been initially sceptical and prefer cinema-grade cameras, but are immediately convinced once they see the footage I've shot with the Cinewhoop," he says.
One major reason why Cinewhoops have become so popular is that they are smaller, extremely agile and a majority of them weigh below 250g offering you the flexibility to record HD to UHD seamless video footage. Until last year, users didn't have too many custom drone options to record cinematic or 4K footage while staying under the threshold of 250g.
Since May 2019, many famous custom drone companies like Eachine, BetaFPV, iFlight, Flywoo are offering RTF Cinewhoops (Ready-to-Fly) where the entire kit to get you started which includes the drone, FPV gear, a radio controller and LiPo battery, and BNF Cinewhoops (Bind-N-Fly) where only the drone is on offer and you can use a receiver of your choice and bind it to your existing radio controller.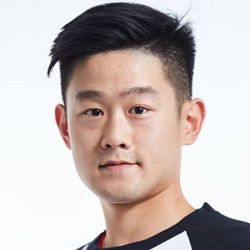 In fact, Kim Tang, a professional drone builder (sub-250g) and cinematographer based in Hong Kong has been building and selling BNF/RTF sub-250g Cinewhoops with de-cased GoPros Hero 6, 7 & 8 since June 2020. Kim has sold over 160 units of Cinewhoops priced between $550-$750 with buyers mostly in the USA and is confident that the nature of this trend will only increase. "Who knows, in 2021 we may see de-cased Blackmagic (industry-grade video cameras) designs on whoops." quips Kim jokingly.
Worth the weight
Since the weight of the Cinewhoops ideally is categorised under the Nano class of drones (under 250 grams), In India, they are exempted from registering the drone with the aviation regulator DGCA, and you wouldn't require an Unmanned Aerial Operator Permit (UAOP) to fly it either. However, you will require necessary local permissions and inform the authorities if you fly over public property or sensitive locations.
India and the case of Cinewhoops
The trend has feverishly latched on, albeit late amongst hobbyists and professional cinematographers in India. Commercially, a few brands and OTT platforms have ventured hesitantly to explore the opportunity, but are yet to fully understand the full potential of utilising FPV to drive their marketing and advertising collateral as against global counterparts. The reason behind this is the idea of Cinewhoops and FPV is still fairly new and raw to production and advertising firms to inculcate over the existing aerial solutions. Also, there is not enough of a skilled pool of FPV pilots in India just yet.
Piyush Parmar, an Aerial Cinematographer & FPV Pilot at Orbiter Films says that the popularity of Cinewhoops has been growing in India with more and more people getting into the hobby of FPV. He credits the surge in interest to the video reels of JohnnyFPV, NurkFPV, and others on YouTube that have made the prospect of FPV cinematic flying exhilarating and fun.
"I can safely say I've been the first to introduce the usage of FPV drones in the Indian Film Industry. I've used Cinewhoops to shoot professional ads for brands such as Skechers, along with a few Bollywood projects in the pipeline.
Mihir Bhatt, a DOP and aerial cinematographer in the Indian film industry, recently incorporated FPV in a real estate shoot and for a web series for ALTBalaji using a Cinewhoop he built in early 2020.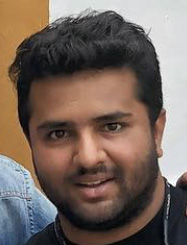 "The FPV market is lucrative and is clearly pegged to grow but maintenance and reparability of these whoops can be daunting for a lot of new FPV fliers. What makes it more interesting is that you can start from the widest frame and go into the smallest of gaps in the same shot. That is something the current commercial drones available in the market cannot do," Mihir says.
Delayed take off
Despite looking like a promising market, the cost, maintenance and repairability of these whoops can be daunting for a lot of new FPV fliers. A common underlying challenge for FPV fliers in India is the availability and sourcing of parts/hardware at retail cost.
"While education remains the biggest challenge in India with respect to the growth of the market for Cinewhoops, availability and pricing of spare parts to build and repair is also a pain point that can deter new users in this hobby," Piyush says.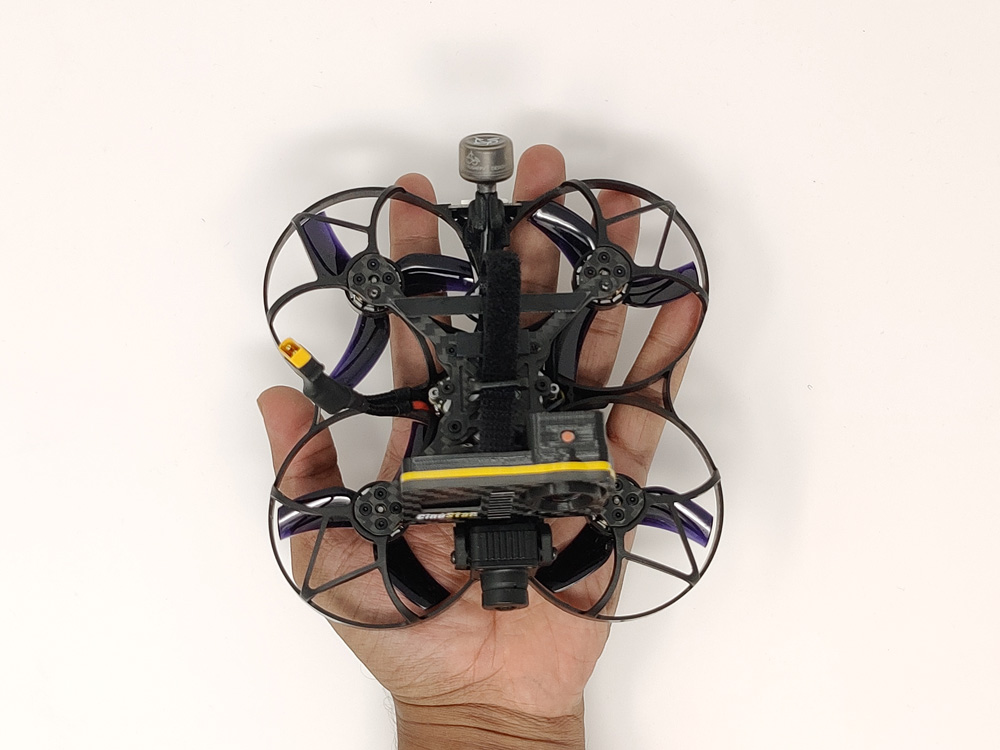 From a commercial standpoint, Mihir says that the Cinewhoop market will evolve when there is awareness about the strengths and limitations of the equipment. "People who want to pursue this hobby commercially need to be patient and hone their skill set," he adds.
Currently, there are only a handful of vendors and P2P sellers in India that are selling FPV/drone related supplies. But they do not provide adequate after-sale service, which can be a deal-breaker for many. Ordering the same products from international websites may attract heavy customs duty, sometimes even resulting in confiscation. It is more like a hit and miss with a wait time of 15-50 days dampening your progress of building a drone along with your enthusiasm till you receive the parts.
Kim Tang too sees India as a huge market and has even sold a few units to customers in the country. However, he says that owing to the cost of the Cinewhoops, and high customs duties levied in India, Indian buyers are not confident of ordering FPV equipment from overseas.
On the bright side, the situation could get better in the near future as the government formalises norms and the law around operating drones in the country.
Cost and Where to Buy
A Cinewhoop built on an analogue system will cost you approximately ₹11,000-₹15,000, while a Cinewhoop on a digital system like DJI will put you back by about ₹25,000-₹30,000.
In addition, with a complete FPV kit, for people getting into the hobby, the analogue will cost approximately ₹30,000-₹40,000 and for a digital FPV system like DJI would be ₹70,000 and upwards.
Currently in India, you can buy Cinewhoops or parts to build one on websites like rcmumbai.com, tujorc.com, and quadkopters.com.
---
This article was originally published in the December edition of T3 India. Subscribe here.